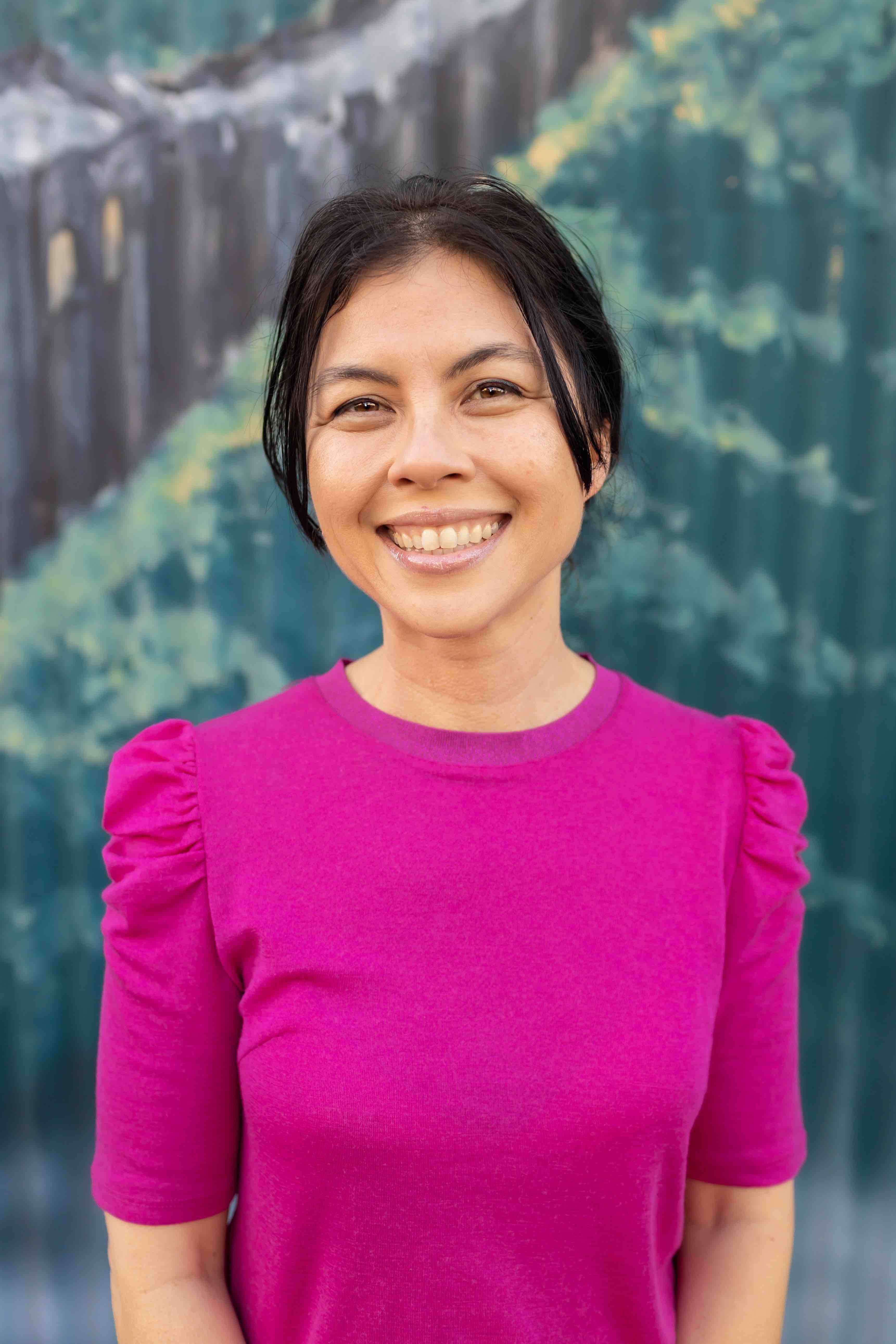 Speaker type
Author
Non-fiction
Motivational
Interstate
Virtual visits

Bio
Zewlan Moor is an author, GP and bibliotherapist who writes playful books for today's savvy kids. Now living on the land of the Yugambeh people at the Gold Coast with her husband and two children, Zewlan loves to read, practise medicine and combine the two through her private practice, Byron Bibliotherapy.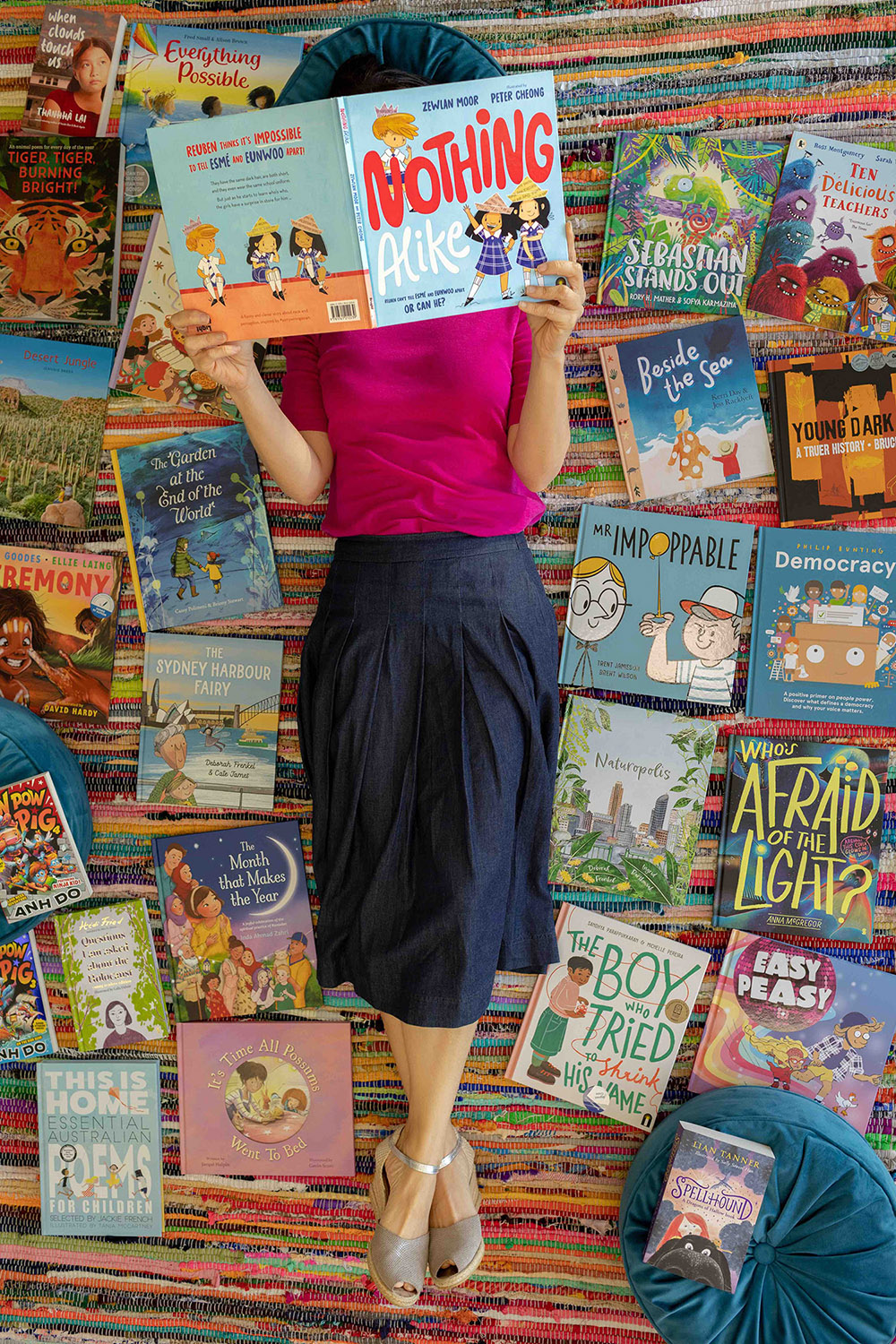 Her books are sometimes multi-layered, with a quirky sense of humour and light touch that belies their serious intent. Other times they're just fun. In her reading and writing, Zewlan is preoccupied with themes of identity, language, power and social justice. Which sounds very dry, but isn't. Especially when wrapped in a picture book/cozy mystery/dark academia/romcom package. She is very grateful to the teachers and mentors who have helped her along the way, and for her boring childhood which made her into a reader!
Zewlan is actively involved in the world of children's literature, as below:
Member of the Society for Children's Books Writers and Illustrators (SCBWI); BookLinks/WriteLinks; the Australian Society of Authors (ASA); and the Last Tuesday Children's Book Club
Invited to annotate the The National Centre of Australian Children's Literature databases for Indigenous Australian books (2020-1) and Picture Books for Older Readers (2022-3)
Judge, Book Links Award for Children's Historical Fiction (2022)
Commended ~ 2020 BookLinks Mentorship (2020)
Longlisted ~ Just Write for Kids Pitch It Competition (2020)
Longlisted ~ HarperCollins/CBCA NSW Branch Aspiring Writers Mentorship Program (2018)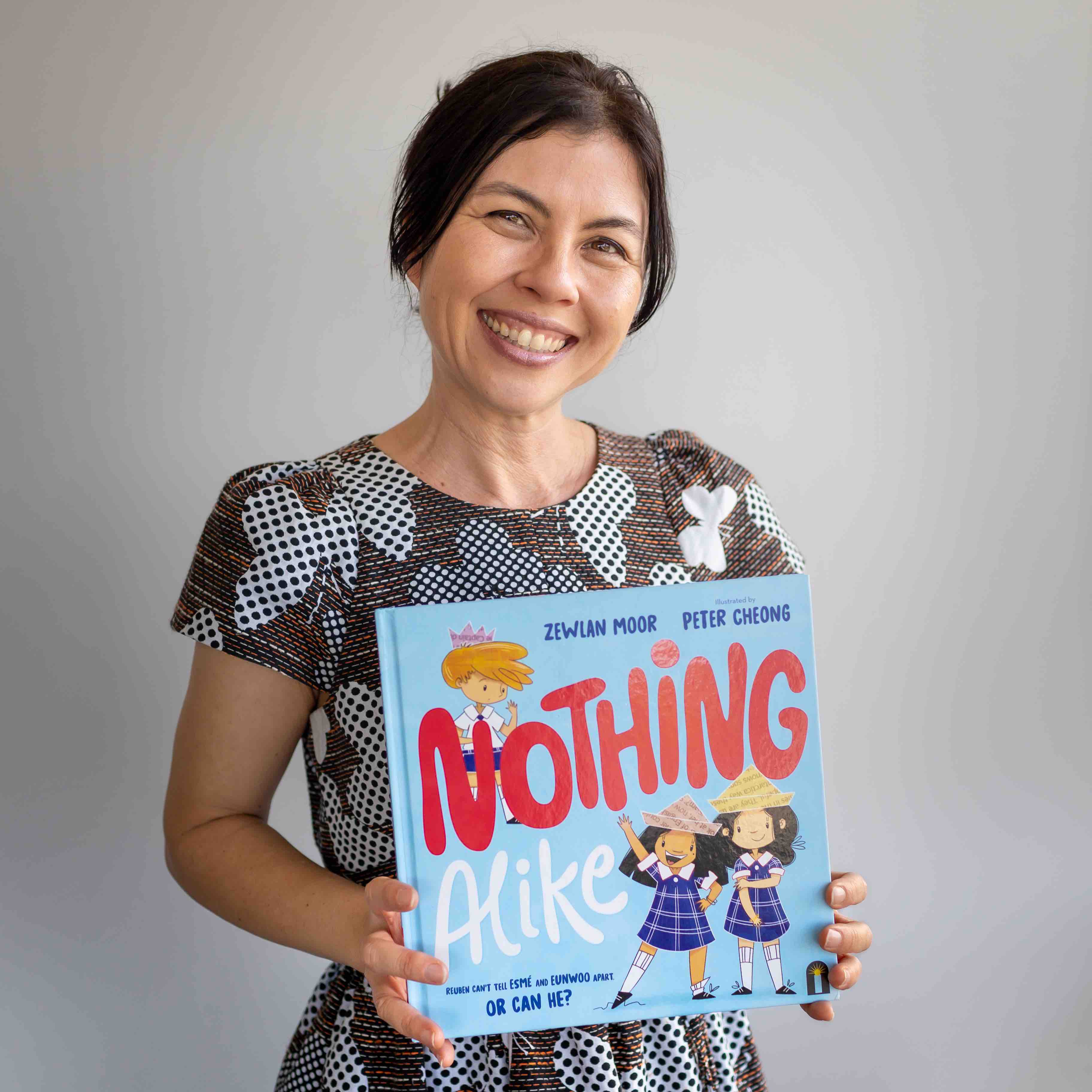 Debut picture book releases:
Nothing Alike (illustrated by Peter Cheong, Bright Light imprint of Hardie Grant, 16 August)
Reuben just can't tell Esmé and EunWoo apart. Or can he?
"Nothing Alike is a thought-provoking story about a white boy, Reuben, and his relationship with two Asian classmates. The story explores Reuben's challenge with the similarities in the girls' appearance that initially confuses him but soon becomes irrelevant when he realises the more exciting differences between them as individuals. . . The gentle humour and lightness of tone in Nothing Alike are successful tools to communicate the heavier issues at play here. . . This is an important book that may help to gently prompt some big conversations."
~ Books and Publishing
The Bill Dup (illustrated by Simon O'Carrigan, Windy Hollow, 1 September)
A young boy notices a line of ants marching in, right into the house. His mum says they spell rain but she doesn't want to get his hopes up . . .
A charming and linguistically playful story about a boy's first experience of The Bill Dup - a heady build-up to rain after a long period of drought.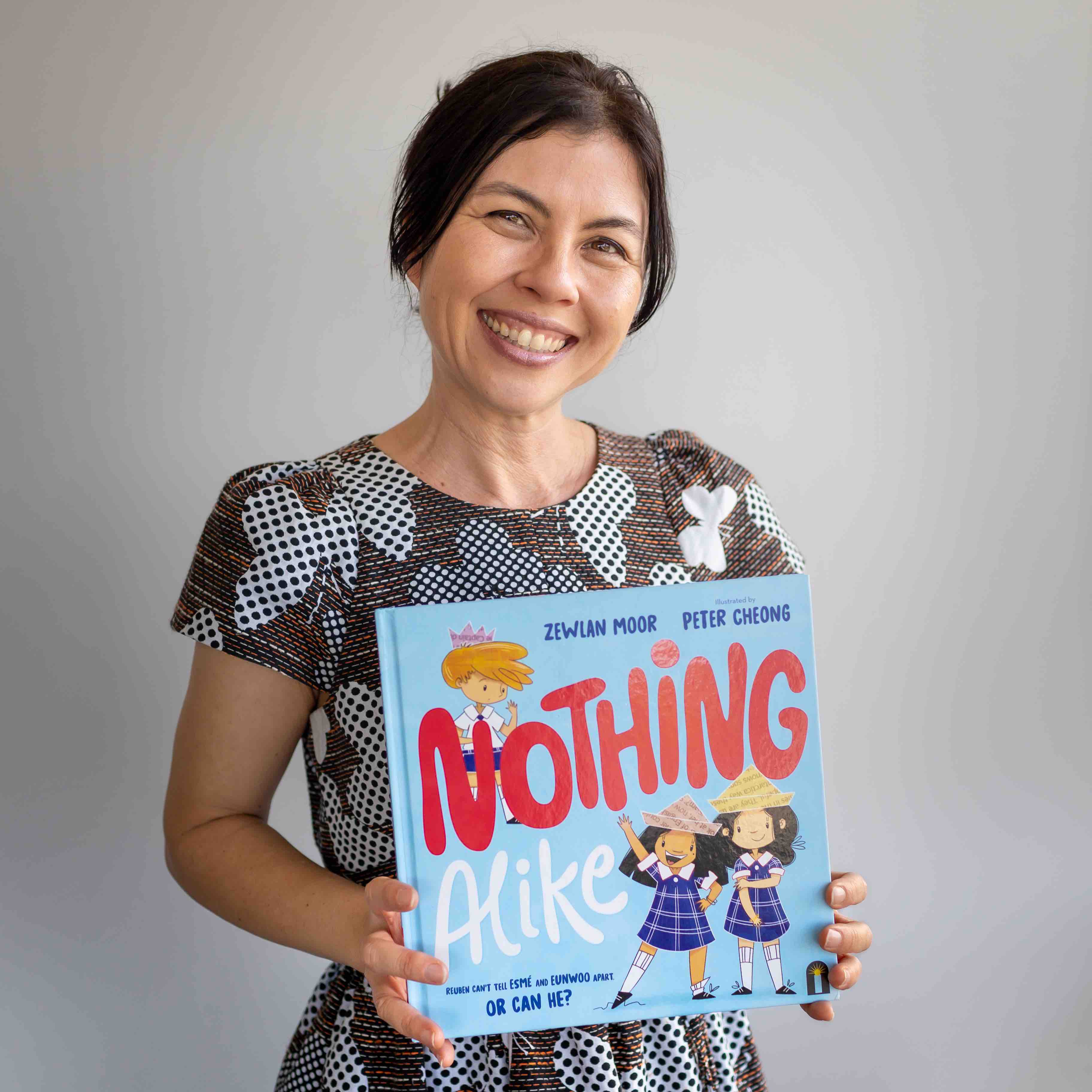 Thank you for inviting me to speak or emcee at your school, conference or function. While session times and fees are set, there is flexibility around timetable needs. Please don't hesitate to get in touch if you need me to speak to a specific topic or curriculum area.
Adults/Teens: 45 mins presentation, 15 mins questions

At a Crossroads: Keeping Your Options Open vs Following Your Bliss; Portfolio Careers; Blending the Arts & Sciences.
Voice: We always hear that agents and editors are looking for a unique and captivating voice. But what is voice? This presentation uses comparative textual analysis to approach this tricky question.
Point-of-view: How does perspective and point-of-view affect meaning? This talk uses comparative textual analysis as well as close readings to explore the creative potential of this narrative device to explore power dynamics.
Bibliotherapy: My journey as a medical doctor and bibliotherapist, and the importance of finding the right book at the right time.
Pre-Prep & Prep/Kindy: 30 minute storytime sessions and activities

These can be based on emergent themes the kids are exploring, but some popular ones are:
Skin colour: What are the facts? How do we talk politely about this?
We all have a culture: Multiculturalism for all.
Drought, wordplay and a child's first experience of rain: based on my book, The Bill Dup.
Yr 1-2: 1 hour sessions including storytime, questions and activities

How my Yr 2 son's funny school experience inspired my book, Nothing Alike.
Drought, wordplay and a child's first experience of rain: based on my book, The Bill Dup.
Yr 3-4: 1 hour sessions including storytime, questions and activities

Drought, wordplay and a child's first experience of rain: based on my book, The Bill Dup.
Using funny school experiences to write stories: based on my book, Nothing Alike.

Yr 5-6: 45 mins presentation, 15 mins questions

Windows, Mirrors and Sliding Doors: the history and current significance of the Diverse Voices and Own Voices movement
Beyond Bubble Tea: The Asian diaspora experience in Australia - ties in with the curriculum priority area, Asia & Australia's Relationship with Asia.
Yr 7-10: 45 mins presentation, 15 mins questions

Beyond Bubble Tea: The Asian diaspora experience in contemporary children's and young adult fiction.
Beyond the Birds and the Bees: Respectful relationships in contemporary young adult fiction and non-fiction.
Diverse Voices vs Own Voices: contemporary debates around authenticity and identity in children's and young adult books
Testimonials
Zewlan Moor is a wonderful champion of the local KidLit community. It has become a tradition for the Who's who of kidlit writers in Brisbane to have a launch at Where the Wild Things Are and have Zewlan Moor as our launch host. Zewlan is a confident speaker and asks insightful and thought provoking questions of the authors she is helping launch. She takes the time to read your book and understand your story and also understand you as a writer and a person. Zewlan helped me launch my debut picture book Easy Peasy in February 2023 at Where the Wild Things Are. I felt very glad to have her calming presence by my side to help launch my book baby. I have had the pleasure of interviewing her for a Words and Nerds podcast Kidlit Takeover and Zewlan makes an interesting, knowledgeable and humorous guest. I definitely intend to book Zewlan as a guest for the Totally Lit podcast in the future. She has a strong knowledge of the industry as a writer and Bibliotherapist and would make for an entertaining host and/or guest for writing festivals, school and library visits, book launches, podcasts, radio interviews and blogs. Zewlan is also a delightful friend whose beautiful smile is always welcomed at all kidlit events. ~ Ky Garvey, Author & Podcaster

KidLit Champion

Zewlan Moor's keynote in SCBWI Queensland's 2021 Bibliotherapy Symposium was a fantastic drawcard and fascinating topic, making it one of our best attended events ever. Zewlan is a fabulous presenter - interesting, accessible, and extremely knowledgeable about literature, wellbeing, therapy and more. Her warm, friendly manner comes across online and in person.
Alison D Stegert, Children's Author and State Director of Queensland Branch of SCBWI Australia East

Keynote in SCBWI Queensland's 2021 Bibliotherapy Symposium

Zewlan is an integral part of the kid-lit community in Brisbane, so I was delighted when she agreed to host the launch of my picture book, One Book Was All It Took, at Where The Wild Things Are Bookshop. Her hosting skills were exceptional, as she presented the event with professionalism and warmth. Zewlan's genuine love for children's books was evident throughout, adding an extra sparkle to the occasion. The event flowed smoothly, and everyone had a wonderful time. All in all, a truly memorable day! ~ Wenda Shurety, Author

Book Launch Host

o Zewlan was a wonderful emcee for my book launch. She's a warm, engaging speaker, and manages an audience with ease. I can highly recommend her as a speaker. ~ Charlotte Barkla, Author

Book Launch Emcee

The realest MC in the B to the E (Brissie)! ~ Rory H. Mather, Author

The Best MC