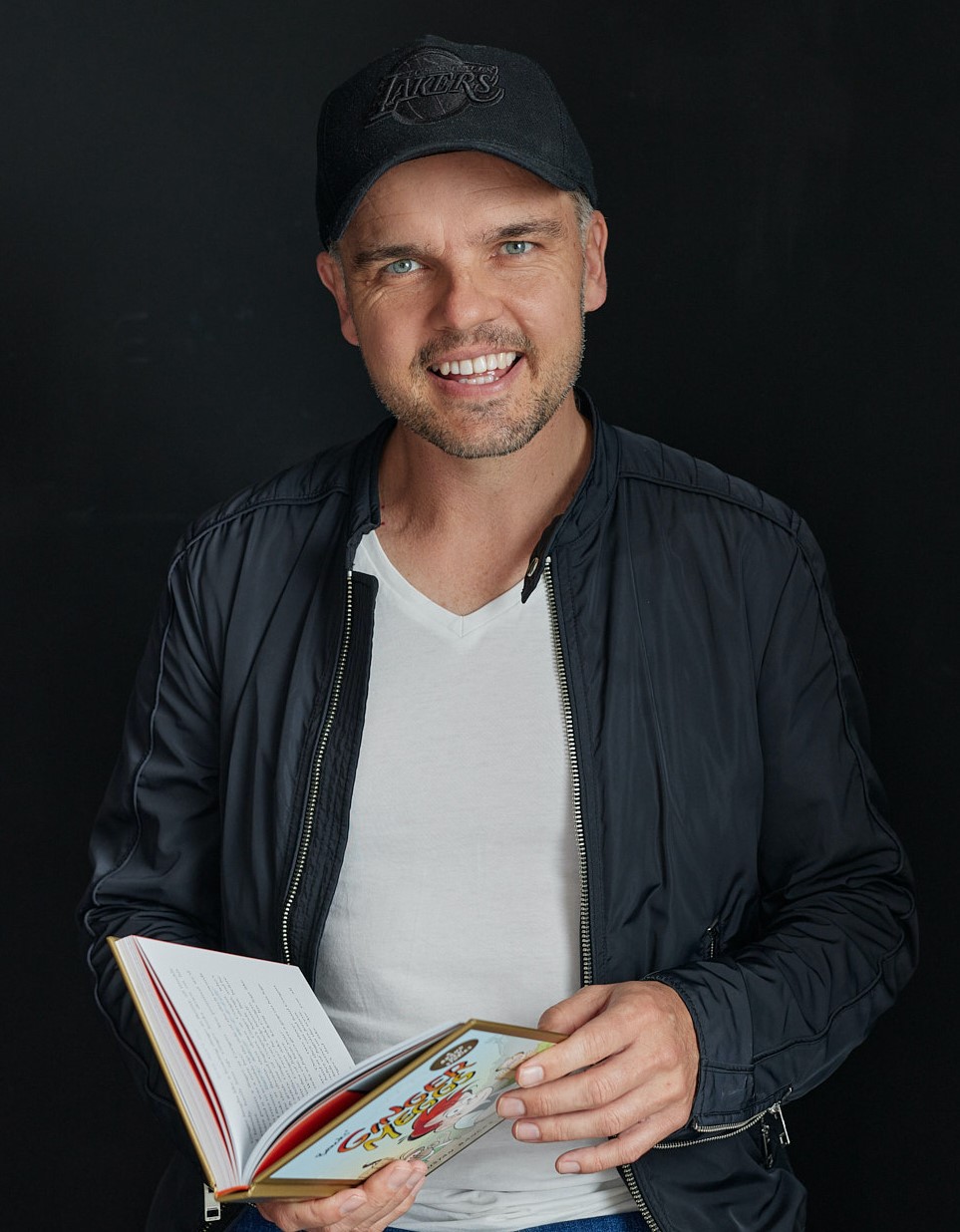 Speaker type
Author
Educational consultant
Virtual visits

Tristan Bancks tells stories for the page and screen. His new book for August 2023 is a suspense-thriller, Scar Town, for age 10+. His other books for kids and teens include Two Wolves, The Fall, Detention, Cop & Robber, Ginger Meggs and the Tom Weekly series. His books have won and been shortlisted for many awards, including a Children's Book Council of Australia Honour Book, the Prime Minister's Literary Awards, and the YABBA children's choice book awards.
Tristan is an author-advocate for literacy non-profit Room to Read. He is currently working with producers to develop a number of his books for the screen. He's excited by the future of storytelling and inspiring others to create. You can find out more about Tristan's books, play games, watch videos, join his Young Writer's StorySchool and help him try to change the world at tristanbancks.com
Tristan's Latest Books:
(See Tristan's Videos and individual Book Trailers in LINKS)
Scar Town (2023)
A missing father. A drowned town. A buried secret. Three friends on a dangerous mission to uncover the truth. Seven years after Old Scarborough was drowned, a house is emerging from the water. Will and his friends Dar and Juno dare each other to explore it. But when they find bones – and a stash of cash – they realise they're not the only ones interested in its secrets. Now they're fighting for their lives against the men who want what they found. Will can't leave the mystery alone, though. What if the bones belong to his missing dad? A DANGEROUS JOURNEY TO UNCOVER THE TRUTH IN A TOWN THAT WANTS THE PAST TO STAY BURIED.
Cop & Robber (2022)
If your mum was a cop and your dad was a crim who needed your help to commit a crime, would you do it to save him? At what cost? Nash Hall's dad is a criminal who just can't seem to go straight. He wants Nash to help him commit a robbery. A big one. The trouble is, Nash's mum is a cop. And the robbery is at Nash's school. But Dad owes a lot of money to some very dangerous people and if Nash doesn't help him do the job, it could cost both their lives.
Ginger Meggs (2021)
Celebrating 100 years of the iconic character and Aussie legend Ginger Meggs, these four brand new and original stories are written by Tristan Bancks, the great-great nephew of original creator Jimmy Bancks, and illustrated in full colour by the current Meggs comic strip artist, Jason Chatfield. Kids and grown-ups alike will revel in the rambunctious adventures and comical capers of the ginger kid who never gets old.
Detention (2019)
Sima and her family are pressed to the rough, cold ground among fifty others. They lie next to the tall fence designed to keep them in. The wires are cut one by one. When they make their escape, a guard raises the alarm. Shouting, smoke bombs, people tackled to the ground. In the chaos Sima loses her parents. Dad told her to run, so she does, hiding in a school and triggering a lockdown. A boy, Dan, finds her hiding in the toilet block. What should he do? Help her? Dob her in? She's breaking the law, but is it right to lock kids up? And if he helps, should Sima trust him? Or run?This moment, these decisions, will change their lives.
The Fall (2017)
In the middle of the night, Sam is woken by angry voices from the apartment above.He goes to the window to see what's happening – only to hear a struggle, and see a body fall from the sixth-floor balcony. Pushed, Sam thinks.Sam goes to wake his father Harry, a crime reporter, but Harry is gone. And when Sam goes downstairs, the body is gone, too. But someone has seen Sam, and knows what he's witnessed.The next twenty-four hours could be his last.
My Life & Other Weaponised Muffins (2017)
Have you ever been trapped inside a runaway car? Have you broken a world record? Is there someone in your class who will stop at nothing to kiss you? Have you ever tricked your dog into doing your homework? Or found something seriously disgusting in your food? Have you sold head lice for fun and profit? Or has your mum ever used raspberry and white chocolate muffins as weapons of minor destruction?I'm Tom Weekly and all of these things have happened to me. I've captured them here in stories, jokes, cartoons, quizzes and lists. Believe me, real life is weirder than anything you can make up.
Two Wolves (2014)
One afternoon, police officers show up at Ben Silver's front door. Minutes after they leave, his parents arrive home. Ben and his little sister Olive are bundled into the car and told they're going on a holiday. But are they? It doesn't take long for Ben to realise that his parents are in trouble. Ben's always dreamt of becoming a detective – his dad even calls him 'Cop'. Now Ben gathers evidence and tries to uncover what his parents have done. The problem is, if he figures it out, what does he do? Tell someone? Or keep the secret and live life on the run?
Online Talks and Workshops
Tristan has been innovative in creating content that caters for teachers and students operating in physical and/or social isolation.Check out the options in his Online Talks and Workshops tab (above) for the latest initiatives.
Recent Awards & Nominations:
2020 CBCA Book of the Year Younger Readers Notable Book – Detention
Winner: YABBA & KOALA Children's Choice Awards – Detention
Australian Book Industry Awards (ABIA) Shortlist – Detention
NSW Premier's Literary Awards Shortlist – Detention
QLD Literary Awards Finalist – Detention
Shortlisted WAYRBA Children's Choice Book Awards, 2019 - The Fall
Winner, YABBA & KOALA Children's Choice Book Awards 2015 and 2018 - Two Wolves & The Fall
Shortlisted, Adelaide Festival Awards for Literature, 2018 - The Fall
Notable Book, Children's Book Council of Australia Awards, 2018 - The Fall
Honour Book, Children's Book Council of Australia Awards, 2015 - Two Wolves
Shortlisted, Prime Minister's Literary Awards 2015 - Two Wolves
Winner, Byron Writers Festival Books to Screen pitching competition 2016 - Two Wolves
Shortlisted, KOALA and YABBA Children's Choice Book Awards, 2014-16 - Tom Weekly series
1. Young Writers' StorySchool is Tristan's brand new online video writing masterclass program for students aged 9-14. It is 24 x 3-4-minute videos to supercharge the writing process in the classroom with comprehensive teachers' notes and activity sheets. Like having an author in the classroom all year round. See the trailer here and the first video lesson at www.youngwritersstoryschool.com.
2. Alongside StorySchool, Tristan is also innovating in the live online talk space. He is now delivering most of his live school talks via Zoom, WebEx, Teams, Meet and also as streamable hour-long videos for flexible individual or classroom viewing. The videos are high-energy with all the images, video, music, maps, readings, humour and anecdotes of Tristan's in-person talks. Lots of inspiration to read and create. They're tailored to each school and Tristan will answer 10 questions from the school's students at the end. See a two-minute sample video here.
3. Tristan is doing a limited number of in-person school visits in 2022.
TALKS
1. My Life & Other Stuff I Made Up
Autobiographical talk using anecdotes, images, video and the Web to trace how Tristan's books relate to his life story. From schoolboy in Sydney's Blue Mountains to teen TV actor and presenter in Australia and London, through travel and university to filmmaking and life as an author. Discover the books Tristan loves to read, how he finds inspiration and how he makes a living telling stories for page and screen. Along the way, have lots of laughs, gain valuable tips on using your own life to inspire your stories and help create a weird, funny, gross short story for My Life book three.
2. Two Wolves
Tristan's middle-grade novel Two Wolves is a collision of Nature and technology. Discover why he wrote the book mostly outdoors and how he took pictures of real-life locations and gathered news stories to build the world of the book. Hear a short reading, see the TV news story book trailer, sample the soundtrack and get inspired to read, and even to write your own crime / mystery story.
3. Vision Boarding
One of Tristan's most popular talks. From soundtracks to storyboarding, movie trailers to animation, writing a book can be a totally 3D experience. See his Vision Board, which helps him create his books. Learn techniques on how you can fuse TV, the web, video, music, maps, apps and old-fashioned books to write your own stories.
NB: Tristan can tailor talks to address specific areas of the curriculum.
All of Tristan's talks and most of his workshops can be delivered remotely via Skype, Google Hangout and other video conferencing tools. A great option for regional visits to cut down on travel costs. It is also a good option for an ongoing series of workshops and interactions with students. A brilliant use of the technology now available in most classrooms.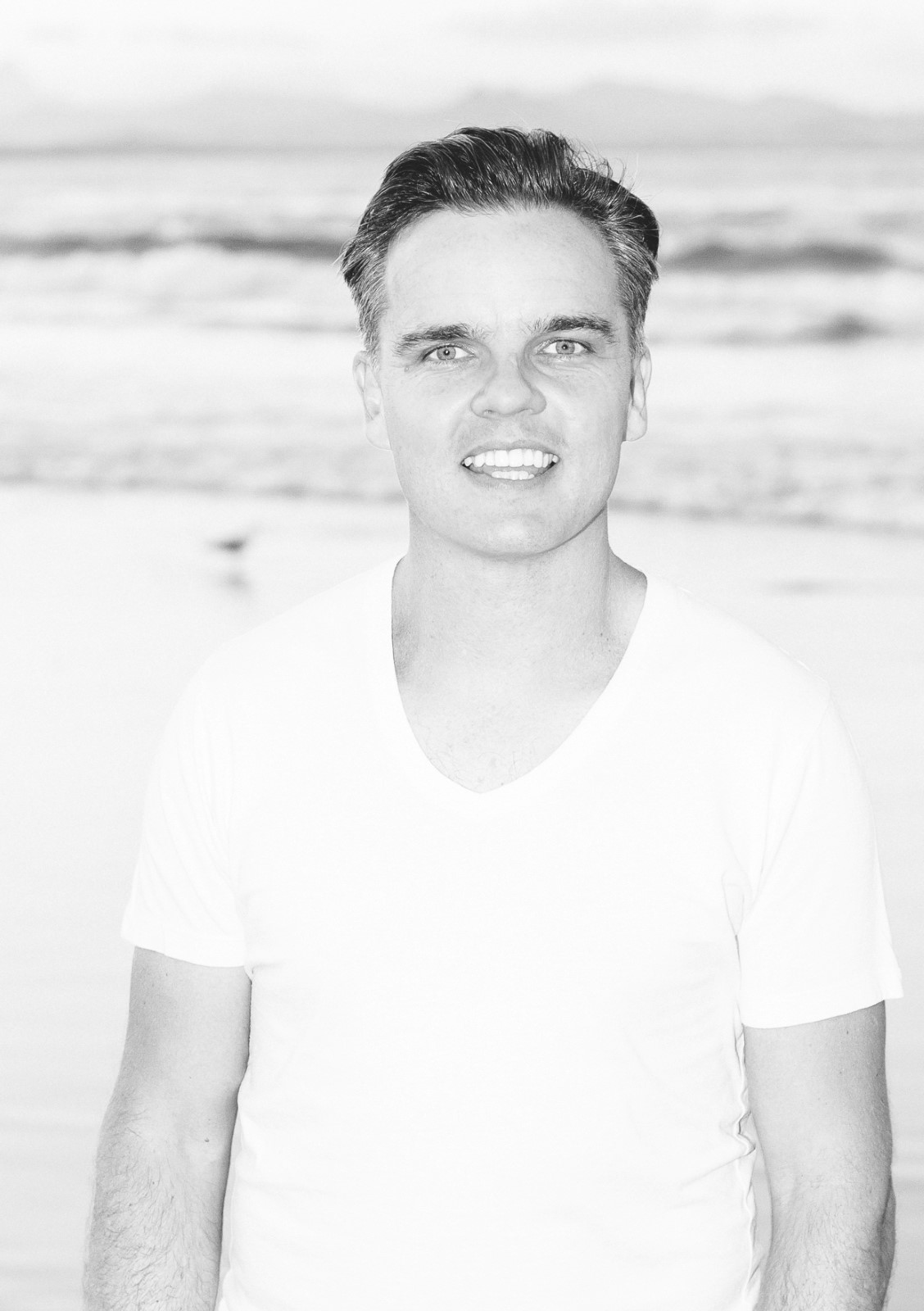 WORKSHOPS
1. Your Life & Other Stuff You Made Up
How can you use all the odd, boring, funny stuff that happens to you and turn it into excellent stories? Author Tristan Bancks used bits from his life to inspire his short story collections My Life and Other Stuff I Made Up and My Life & Other Stuff That Went Wrong. Like the time his sister made him eat Vegemite off her toe and the time he had his appendix removed just to get out of school detention. Learn how to mine your own life for cool, weird, funny stories that your friends and teachers will love.
2. Story Safari – An Outdoor Writing Adventure
Participants observe, experience and let the world around them rush onto the page. The forward-motion and physical exercise bring the writing experience alive, forging new and unexpected stories. Can be done in the school playground! http://bit.ly/xror8X (Inspired by Tristan's writing process on his book Two Wolves.)
3. Tell Stories Like a Filmmaker
Discover storytelling tools that I learnt while working in TV & film. Find out how cinematic story tools can make writing more engaging and fun. Filmmaking tools help with worldbuilding, imagery, detail, voice, pacing and other important facets of storytelling.
4. Introduction to Short Story Writing
A hands-on 1–5-hour workshop discovering the basics of writing a short story:
Freewriting, Drafting, Rewriting, Detail and ensuring your idea fits short story form.
5. Writing From the Inside Out
In-depth writing workshop for very keen / talented writers aged 10+ wanting to take their work to the next level and excavate the stories locked inside them. This workshop goes beyond ʻGetting Started' and plunges into Voice, Setting, Character Development, Conflict, Plotting, Analysis of Great Writers' Work and saying more by saying less.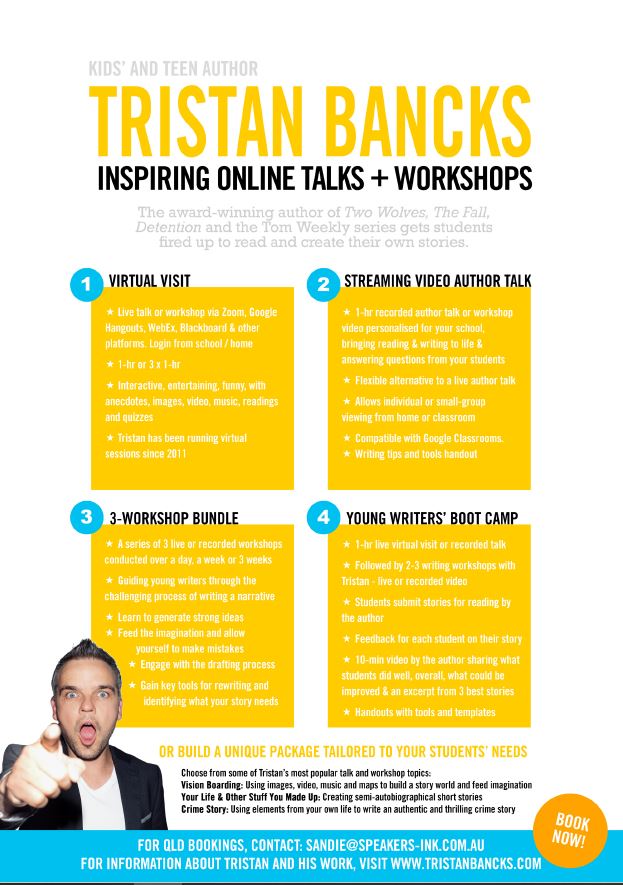 Testimonials
Tristan is a very engaging speaker. The students enjoy the presentation. My library colleagues asked me on Monday "What is it with Tristan? Every time he visits the students rush to the library to get his books. This doesn't happen with the other authors." I cannot truly answer this, but I think it is a combination of his presentation and his books.

St. John's Anglican College - October, 2023

Tristan provided an engaging presentation on how he finds inspiration for his writing. The combination of stories, video, music and readings suited our Year 7s perfectly.

St. Columban's College - August, 2023

Tristan was highly engaging and an inspiration to our young writers. The whole school community thoroughly enjoyed his presentation.

St. Patrick's Primary School Gympie - August, 2023

Tristan's sessions were both interesting and entertaining for year levels 5-8, and he was very flexible with spending extra time talking to students, signing books and having photos taken with them. Our students were very excited to have him at our school and treated him like a rock star. It was one of our most successful author visits ever.

Redeemer Lutheran College - July 2023

Thanks for organising this event for us. Tristan's presentations were well received and he kept us all engaged with his storytelling and connections with music, scenery and had amazing tips about writing to share with our Year 8 cohort.

Good Shepherd Lutheran College - July 2023