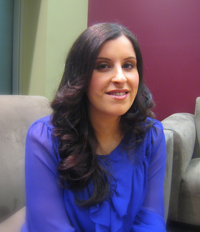 Speaker type
Author
Motivational
Interstate
Virtual visits

Randa Abdel-Fattah is an internationally published award-winning author. Her novels include Does My Head Look Big in This?, Ten Things I Hate About Me, Where The Streets Had A Name and Noah's Law. Her children's novels are Buzz Off, The Friendship Matchmaker and The Friendship Matchmaker Goes Undercover. Randa's first adult novel is the cleverly named No S-x in the City, described as an unadulterated Aussie chick-lit with a twist: lead character Esma is a devoted Muslim which adds an interesting layer to the 'girl tries to meet boy' narrative.
A passionate human rights activist, Randa is frequently sought for comment by the media and has appeared on television programs such as the ABC's Q & A, the ABC's First Tuesday Book Club, SBS's Insight and Channel Seven's Sunrise.
Randa is a regular speaker at schools and writer's festivals in Australia and overseas. She uses her writing, talks and workshops to address issues of identity, race politics, prejudice, religion, human rights and bullying.
Randa's books have received much acclaim.
Does My Head Look Big In This?

Australian Book Industry Awards Best Book for Young Adults in 2005
Children's Book Council Notable Book 2005
New York Public Library Book for the Teen Age
One of Kirkus's Best Books for Young Adults (USA)
Ten Things I Hate About Me
Winner Kathleen Mitchell Award, a biennial literary award that acknowledges excellence in writers under 30.
Shortlisted for the Redbridge Children's Awards (UK)
Selected by a joint committee of America's Children's Book Council and the National Council for the Social Studies, as a CBC/NCSS Notable Social Studies Trade Book for Young People 2010.
Children's Book Council Notable Book 2006
Where the Streets had a Name
Included in America's YALSA's 2012 Best Fiction for Young Adults
Winner Middle East Outreach Council (MEOC) young adult book of the year 2011 (USA)
Short-listed for the 2010 Adelaide Literature Festival Awards.
Winner 2009 Golden Inkys award, Australia's only teen choice book awards.
Children's Book Council Notable Book 2008
Noah's Law
Highly Commended- Sister in Crime Davitt Awards 2011
Children's Book Council Notable Book 2011
Identity and Belonging
The struggle to define oneself against stereotypes is something I feel very passionately about and is the primary reason why I deal with identity themes in my novels. Those stereotypes aren't necessarily religious or culturally based. Some of my characters struggle against stereotypes associated with their figure and body image. Some struggle with stereotypes that arise because they come from broken homes or refuse to conform.
As someone who comes from a multi-layered background – Australian born Muslim Palestinian Egyptian – I know firsthand what it means to straddle between different worlds, to live bearing the weight of other people's prejudices, to want so badly to withdraw in to the safety of anonymity to avoid confrontation. Through my writing, I hope to empower and inspire people of all faiths and backgrounds to embrace their identities and feel strong enough to assert themselves in the face of other people's expectations and pressures. I also hope to offer my readers an insight in to worlds and experiences they perhaps have no connection or knowledge of, whether that be the world of an Aussie Muslim girl or a disfigured Palestinian child living under military occupation or a rebellious teenage boy taking on the legal world to fight for justice.
Writing workshops
I have extensive experience in conducting writing workshops offering my own practical tips including opportunities for writing in class and obtaining constructive feedback. My workshops can be tailored to all audiences including budding writers and students interested in creative writing.
Topics covered include:
- An introduction to my own writing career to inspire and encourage younger writers. (Randa wrote her first full length novel, Does My Head Look Big In This? at just 15).
- Discussion of practical exercises and theory
- Developing the plot, getting started, sustaining the middle of a story, character development, dialogue, editing and ending.
The Israeli-Palestinian conflict: a personal perspective from the daughter of a dispossessed Palestinian
My visit to my father's birthplace, Palestine in 2000, had a profound impact on me. I suddenly understood the tragedy of my family, specifically my grandmother's dispossession. I also saw children and young adults trying to get on with their life despite the occupation – attending weddings, gossiping with friends and neighbours, haggling at the shops, following favourite TV sitcoms. With my book "Where the Streets Had a Name", I wanted to explore life under occupation from the perspective of a Palestinian child and write a simple story set in complicated circumstances. I explored sacrifices best-friends make for each other, sibling rivalry, nagging parents, sparring in-laws, ambitious wedding plans, helpless adults, children who dream big and an occupation that impacts on the minutiae of ordinary life.
Testimonials
Randa was not only warm and open with our students, her presentations were very well organised, and interactive. She is amazing at what she does. Her ability to tell her own story, challenge perspectives whilst interweaving opportunities for students to explore their own thinking and writing was truly a privilege.

Kirwan State High School - June 2019

Thank you for recommending Randa for this year's Literature Festival Day. It was a huge success and we have had wonderful feedback from students and teachers.

Randa Abdel-Fattah - St. Aidan's Anglican Girls' School, August, 2012

We had a lovely Literature Event yesterday. Randa was fantastic, her sessions were thought-provoking, everything went smoothly and we have had great feedback from the staff and students.
We are now thinking about next year and would love to have Randa back. We had a great time, thanks so much.

Randa Abdel-Fattah - St. Peter's Lutheran College, August, 2012