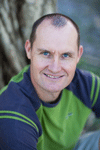 Speaker type
Author
Educational consultant
Virtual visits

An ex professional tennis player and teacher, Pat Flynn now writes realistic fiction with a dose of humour for 8-16 year olds. The Tuckshop Kid received an Honour Book prize in the 2007 CBCA Book Awards, and his YA novel The Line Formation was released in America in 2008, making the PSLA top forty Young Adult list of 2009.
Pat has visited hundreds of schools presenting to students of all ages. His entertaining talk encourages young people to read and write and provides an insight into the creative process.
His workshop can last from 50 minutes to two days and covers coming up with story ideas, techniques to hook the reader, and editing and proofreading.
Pat also runs workshops for teachers.
Latest books include Get Rich Quick, The Tuckshop Kid, The Toilet Kid and The Trophy Kid.
The Trophy Kid is the companion adventure to the award-winning The Tuckshop Kid – about tennis, tuckshop and tricks of the mind.
In 2009 Pat appeared at the Somerset Festival of Children's Literature, Voices on the Coast Youth Literature Festival, Ipswich Festival of Children's Literature and the Brisbane Writer's Festival.
Hot off the press is My Totally Awesome Story – a new book from Speakers Ink duo Pat Flynn and Peter Carnavas. The book follows 13-year-old Duane as he reluctantly fills his school writing journal with stories about his life – including crashing his motorbike, playing pranks with his best mate Meatball, and chasing the affections of Jackie. Duane illustrates his writing with over 100 funny drawings, and the teacher, Miss Wright, comments on and corrects Duane's work, something he doesn't always appreciate!
Pat's inspiration came from the many writing workshops he's facilitated at schools. 'Young people often write with a lack of self-consciousness that is both endearing and amusing,' Pat says. 'I wanted to capture that natural humour in the novel and also create a book that teachers can use to help students enjoy their writing.'
Click here to find additional resources such as extensive teachers' notes, a book trailer, and a video of Pat reading from the book while Peter illustrates.
Wooloowin State School would like to thank you for the opportunity to have Pat Flynn and Peter Carnavas at our school last night and also for organising Nadia Sunde for the Prep to Year 2 students. We had a wonderful night with the choice comment of the evening coming from the Principal, "I think this should be a yearly event".
Thank you again.
Wooloowin State School, March, 2013.
Testimonials
Engaging performance for all students

Camira State School - September, 2023

Pat catered for our audience well. He was engaging and entertaining. The students have provided feedback expressing their enjoyment of the visit.

Palmview State Secondary College - August, 2023

Pat Flynn was engaging, funny and had the students sitting attentively hanging off every word. His books are now on demand and we can't wait to see what he will write next.

Milton State School - August 2022

Pat delivered a well structured, very interactive, well balanced presentation. Children were very engaged and felt a part of their own story writing process. Some great ideas for children and teachers.

Our Lady of the Angels Primary School - September 2021

Both Michelle and Pat were very well received at our school. They were organised and what they presented was engaging for the students. We had positive feedback from both staff and students. Thanks very much

Warrigal Road State School - September 2021