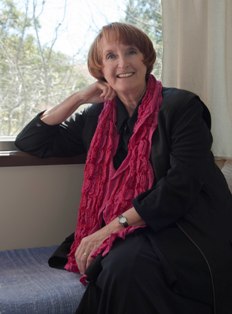 Pamela Rushby was born in Queensland, Australia, more years ago than she cares to divulge.
She has worked in advertising, as a pre-school teacher, and a freelance writer. She was a writer and producer of educational television, audio and multimedia for the Queensland Department of Education for 16 years, and now freelances in children's and young adult fiction and non-fiction; scriptwriting; and multimedia writing/designing.
Pam has written:
Novels
With over 100 titles to her credit, Pamela's YA novel, Millions of Mummies was published in 2006. It is the sequel to her previous book Walking in the Fields of the Blessed. She has also recently had 2 short stories selected as winners in the Brisbane City Council's "One Book, Many Brisbane's" 2006 and 2007 anthology and will be a judge for the competition in 2009. Her YA novel, When the Hipchicks Went to War, 2009, is about young women who went to Vietnam as entertainers during the Vietnam War. Some of them were only 16...
Pamela's historical novel for children, Lizzie and Margaret Rose'has just won the Society of Women Writers NSW award for a children's book in their 2018 awards.
The Mummy Smugglers of Crumblin Castle (released July 2020) is a thrilling tale of an orphaned heroine, a mysterious ruined castle in the fens, mummy unwrapping parties, a family of house-keeping cats and a thousand-mile journey up the Nile in (illegal) search of ancient Egyptian mummies.
In 1942, over two days, Australian and American servicemen fought against each other, rioting in the streets of Brisbane, in an incident that became known as the Battle of Brisbane. In her latest novel The Secret Battle (Published by Eagle Books 2021), Pamela tells the story - as well as Japanese Zeros over Brisbane, the threat of the 'Brisbane line' - and the arrival of spaghetti!
Interned (Walker Books 2022) describes how Australia jailed 7000 'enemy aliens' of German origin during World War 1. Most of these were men. But 84 were children - It's 1914 and the world is on the brink of war. Gretta, daughter of a German businessman, lives a privileged life in Singapore. Tilly, daughter of a German-born baker, lives a modest life in Brisbane. But the girls will spend the next four years together, in Australia. In an internment camp. Jailed.
Pamela's latest book Mud Puddlers (Published by Walker Books 2023) is all about (modern) mud larking on the Thames! What lies hidden in the mud? What might happen if you look at it too long? And what will happen if you let it go?
Children's and Young Adult Books
Dancing Pants - Heinemann 1991, short-listed for the Australian Multicultural Children's Literary Awards 1991;

Walking in the Fields of the Blessed - Rigby 1994; Bubblegum Magic - Reed Books 1995; Circles of Stone, a young adult novel published by HarperCollins 2003;

and over 80 other fiction and non-fiction titles for various publishers. Her books have been published in Australia, New Zealand, the USA, and Malaysia.
Children's Television Scripts
Two episodes and three animated stories for the Australian Children's Television Foundation's Lift Off! Series.

Hundreds of Radio and Television Commercials
TV documentaries on Queensland dinosaurs and Australian ecosystems - Outback Dragons - World Around Us - Channel 7 1990; The Living Landscape - Series 1 and 2 ABC TV.
Bilby Brothers: The Men Who Exterminated the Easter Bunny - ABC TV, 2003 (multi award-winner, and sold internationally to Germany and National Geographic).
The Mystery of the Disorderly Warriors - 2004 and The Crown of Thorns Starfish:Monster from the Shallows - 2004 (both Discovery Channel and German television). Crown of Thorns is a multi international award-winner.
Short Stories
For magazines in Australia and overseas
Freelance Journalism
She has written and produced numerous educational and corporate videos and CD-ROM Interactive Multimedia projects and Websites.
Awards
Pam has won several awards including
a Literature Board of the Australia Council grant to work on archaeological excavations in Egypt and Jordan for research for a children's novel;
a Churchill Fellowship to study educational television at TV Ontario, Canada;
an Arts Queensland writers grant to write a young adult novel, Circles of Stone;
and a second Arts Queensland writers grant to write a young adult novel based on the 1891 Shearers' Strike.
She is passionately interested in children's books and television, ancient history and Middle Eastern food. Pam lives in Brisbane and has two children and two gorgeous grandchildren.
Pam can speak on:
Her published books and the processes and travel involved in writing them (supported by PowerPoint illustrations, a full-size replica of a bog body and a genuine mummified rat)
writing for television
writing for audio
writing short stories
workshops on creative writing skills
The Mummy Smugglers of Crumblin Castle
-Middle to upper-primary
This workshop covers ancient Egyptian history: burial practices, the afterlife, way of life, beliefs. It also includes a hands-on activity where the students learn to write their name in Egyptian hieroglyphs. AND I bring along a (genuine) mummified rat, a (replica) mummified child's hand, shabti and jewellery and a model of a mummified cat.
This workshop fits into the curriculum where students study an ancient civilisation.
Testimonials
Pamela is soft spoken and an engaging speaker. She is a fabulous storyteller. Pamela had the students enthralled with her stories, which demonstrated the amount of research she has conducted in writing her stories.

St Stephen's Catholic College - March 2019

Pamela's visit was very well received by our girls. The PowerPoint presentations and worksheets she used to accompany her workshops with our year 8 and 10 girls were engaging and useful for the girls when thinking about how to successfully structure a story.
I would thoroughly recommend Pamela for an author visit to other schools, particularly all girls' schools as many of her novels deal with females as the main protagonists.

Pamela Rushby - Mary MacKillop College, August, 2014.