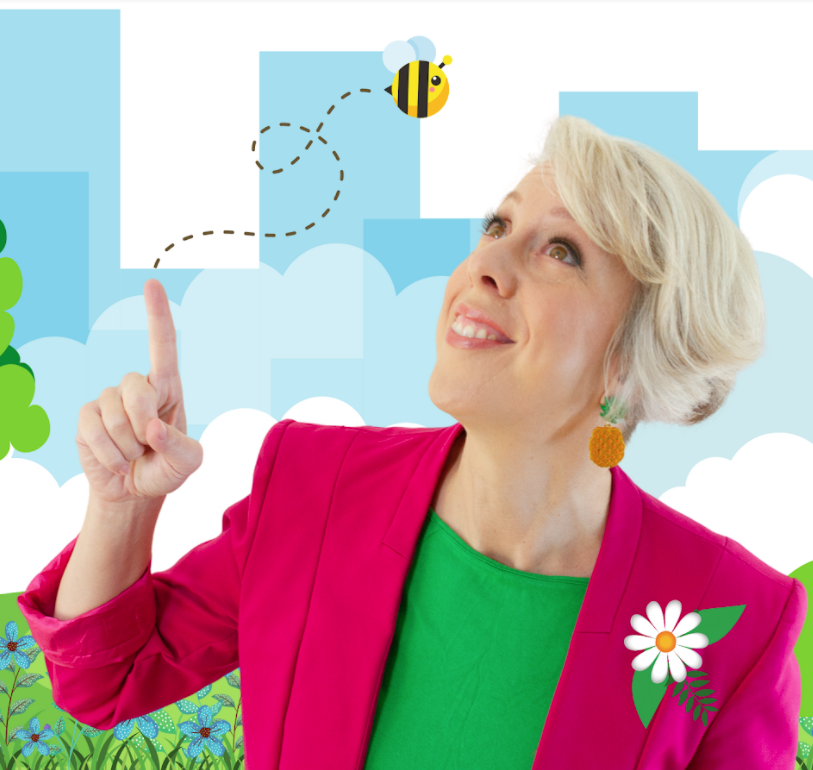 Speaker type
Author
Storyteller / Performer
Motivational
ntroducing Nadia Sunde - Author, Songwriter, Comedian, Storyteller, Performer, Motivational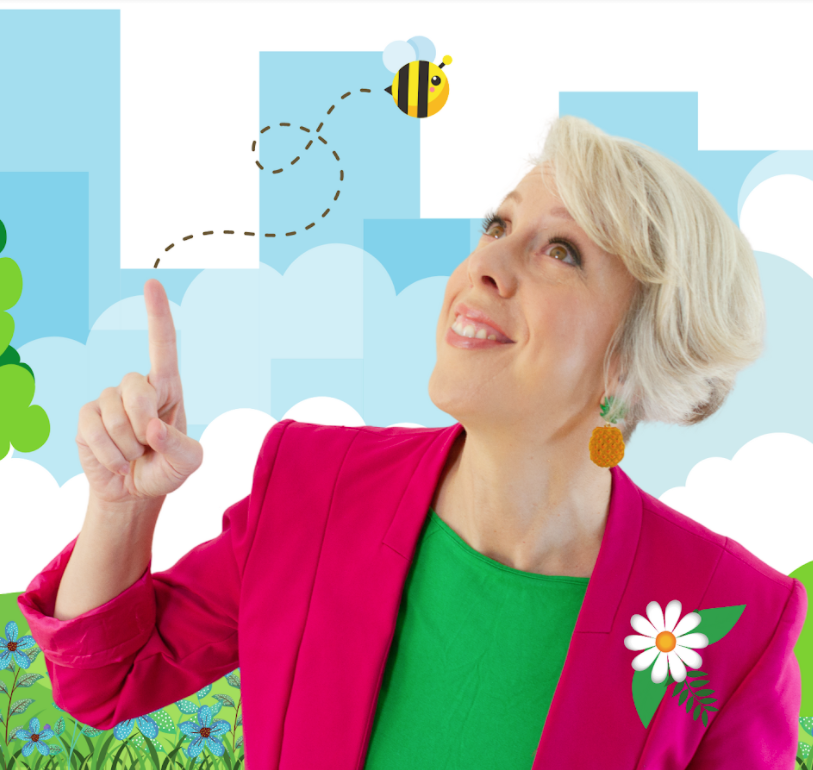 Nadia Sunde is one of Queensland's most celebrated and beloved children's theatre writers, songwriters and performers. An internationally and nationally awarded songwriter, she is also the author of three published picture books, an early childhood music and literacy educator with over 25 years-experience, and a former ABC radio presenter. Nadia has written eight children's theatre shows for 0 - 8-year-olds, including a commission for the Commonwealth Games, and was recently commissioned by the State Library of Queensland and the First 5 Forever program to write five original songs inspired by their book series - Stories for Little Queenslanders. Her song 'SHOOSH!' is currently a finalist in the children's category of the International Songwriting Competition. Nadia uses her skills as a professional performer and educator to engage children in vibrant and interactive workshops full of stories, songs and loads of laughter. She effectively uses drama, comedy and music as tools to activate children's imaginations, creative curiosity and confidence.
"Nadia Sunde is the most intuitive performer / storyteller / singer that I have had the pleasure to meet. The kid's shrieks of laughter were a delight to me and the teachers, and all done with a sock and a teapot! She bonded with the kids and the staff. Nadia, Houdini like, got a child who does not speak, to become a part of the storytelling. His teacher and I couldn't believe what we were seeing. She's the benchmark that everyone else needs to aspire to. The staff and I want her back." Andrea Anderson, Teacher Librarian, Seven Hills State School.
Nadia has presented at the Auckland Writers Festival, Sydney Writers Festival, Perth Writers Festival, Melbourne Writers Festival, Newcastle Writers Festival, Brisbane Festival, Woodford Folk Festival, Mary Poppins Festival, Somerset Storyfest, Voices on the Coast and many other wonderful festivals, venues and events across Australia.
Awards
* 2015 Queensland Music Award Winner - 'Outstanding Achievement - World Music Category'
* 2015 / 14 / 13 Queensland Music Award Winner - 'Children's Category'
* 2014 / 13 / 11 International Songwriting Award Winner - 'Children's Category'
* 2014 Gold Coast Creative Industry Award Winner
* 2013 APRA Art Music Awards - 'Queensland Performance of the Year' - The Dream of Zedkat Nabu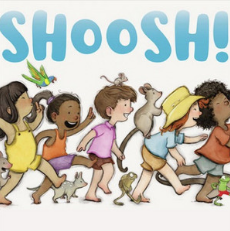 Music & Story Play
Nadia's latest initiative is Music & Story Play. This initiative supports Early Years Professionals and parents with the confidence and tools to deliver quality music, literacy, and dramatic arts learning experiences to children aged 0 - 6 years old. The online platform offers lesson plans, downloadable music, books, and training.

AVAILABLE WORKSHOPS:
Twinkle Just Won't Go To Bed! - Preschoolers - Year 2
WHAT TO EXPECT WHEN NADIA COMES TO VISIT:
A highly interactive, joy-filled, 45-minute session featuring: music, movement, storytelling,language and literacy extension, and guided story play embedded with Abecedarian principles.
Nadia arrives with her best friend 'Twinkle', an adorable toy mouse. But before she can begin her author session, Twinkle needs to settle down for his morning nap. He usually loves a book before sleep and today's book is all about rocket ships!
However ... when the book is finished, Twinkle just won't go to bed. He'd rather play a game instead!
Nadia knows just what to do! She takes a look inside pocket number 1 of her magic 'nap' sack - a whimsical sack full of fun ideas that sometimes help Twinkle get to sleep. Inside the pocket she discovers ... a rocket ship! WHOOSH!!!
Today, the pockets of the magic nap sack are full of outer space inspired props, and when Nadia and Twinkle discover jetpacks that can fly them to the moon, they blast off on an imaginary adventure with their newfound friends - discovering moon cheese, banango trees and other wondrous delights!
* Nadia's newest book 'Twinkle Just Won't Go To Bed' is due for release in June 2022. It is recommended that educators read the book aloud with their children prior to Nadia's visit and listen to the downloadable songs on Nadia's website.
Educators receive:
Detailed teacher notes outlining links to the EYLF, Australian Curriculum and AQS Quality Areas.
A detailed music and story play lesson plan to use following Nadia's visit.
Suitable for:
Preschoolers - Year 2
Duration:
45 minutes
Topics covered:
• Literacy and language development
• Numeracy
• The power of imagination and play-based learning
• Collaborative storytelling
• Focussed listening
• Music
• Dance
• Movement
• Nurturing children's self-identity as an active learner
Curriculum Outcomes
• EYLF Outcome 1: Children have a strong sense of identity
• EYLF Outcome 4: Children are confident and involved learners
• EYLF Outcome 5: Children are effective communicators
• Literacy - Listening and speaking interactions
• Literature - Experimentation and adaptation
• The Arts - drama, dance and music.
TESTIMONIALS:
Nadia's engaging storytelling and songs brought such immediate warmth and joy to the room and had the children and adults alike transfixed. The story of Twinkle the mouse eventually getting to sleep after an epic space odyssey was both sentimental and perfectly lighthearted, with lots of laughs and learning too. We LOVED it. - A Davidson-Farnworth, Elanora Library, 2021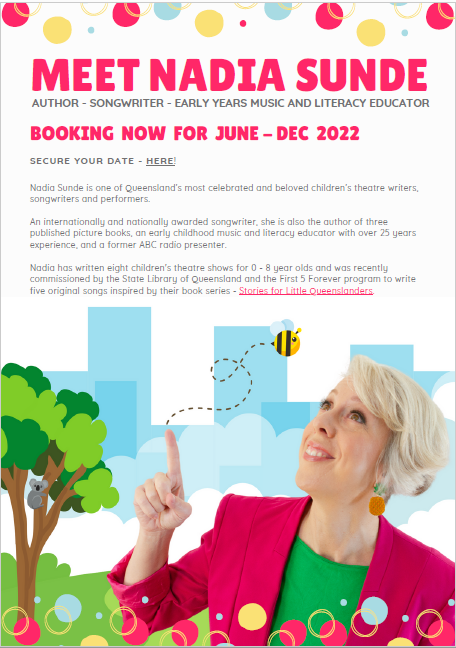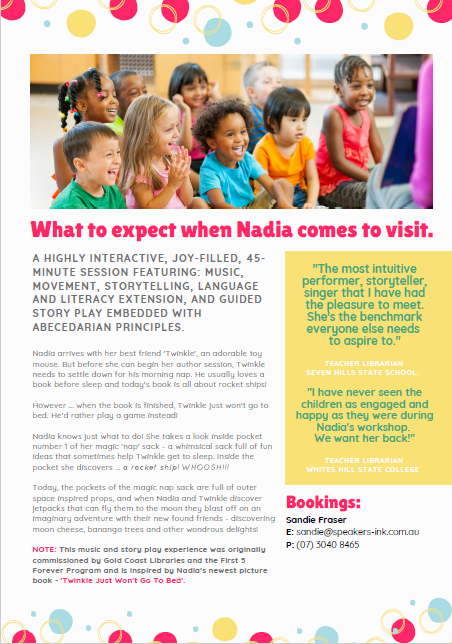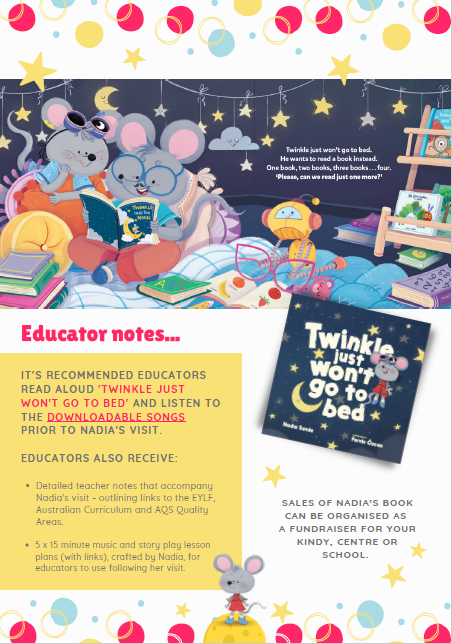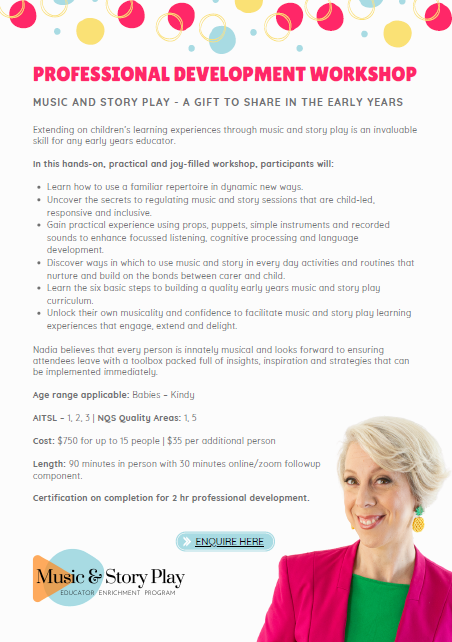 Testimonials
Students and Staff found Nadia's performance both engaging and entertaining. The Year 2 students were completely entranced by her storylines, props and songs.

St. Joseph's Catholic Primary School - September, 2023

When her, uniquely layered performance begins, Nadia Sunde sans makeup, wigs, or dramatic costume changes embodies the character of Professor Frankie Falconette and invites us on an epic journey into a world where a small, skinny boy with glasses held together by tape triumphs against all the odds and becomes the household name who-must-ALWAYS-be-named! If Magic is the supernatural force that changed Harry Potter's world on every fundamental level, last Wednesday, Nadia Sunde most certainly maximized its power to weave her spellbinding craft, vividly demonstrating how great stories are universal, surprising, and unexpected. How they constantly touch and shape our understanding of the world and how they endure forever in our hearts and minds. Inviting the senior students of Seven Hills State School to fly on quidditch sticks made from mops, sending magical objects soaring over the heads of an audience of mesmerized muggles, and encouraging volunteers to compete in fast-paced side-splittingly comedic challenges, every minute of this gifted thespian's performance was at once both touching and hilarious. Deeply connected to the love and devotion these diverse creators and thinkers at our school share for the ubiquitous and most wondrous Harry Potter, Nadia Sundes' magical performance will remain one of their most memorable ever! Thank you, Nadia!

Seven Hills State School - November 2022

It was so wonderful to have Nadia back for Book Week this year. The Collectors experience for our Prep to Year 2 students was magical. The students were so engaged from the activities prior, right through to visit from Sprig and Magnolia on the day. The Harry Potter show was extremely entertaining for our older students. Both shows allowed for student participation and lots of fun, while at the same time ensuring the students were well-managed. Thank you again, Nadia!

Whites Hill State College - October 2020

Our students were filled with joy and delight when the The Collectors came to visit. Sprig and Magnolia, aka Nadia Sunde and Melissa Redman, are perfect foils for each other. Sprig explodes with exuberance and humour while Magnolia balances this with serenity and calm. Their message of care for nature is embedded in every aspect of the program, from the pre-performance letters, the performance itself, and then children visiting Little Leaf Village website where they can send an email, view photos, listen to stories and songs, and even get a recipe from Magnolia's Kitchen. The children have been so excited with the replies. The Collectors are real in the eyes of a child, up there with the Tooth Fairy and Santa.... but better. I will definitely invite them back.

Seven Hills State School - August 2019

Nadia's sessions with our students were amazing! She catered to the three different age groups beautifully, with each group being thoroughly entertained. Not only were they entertained with theatre, song and hilarity, the student's were managed in a way that meant there were no issues with student behaviour. She set clear expectations and then off she went on a marvellous adventure of storytelling and humour. I have never seen our students as engaged and happy as they were during Nadia's show. We would definitely recommend her to other schools and we will be getting her back here at our school in the future!

Whites Hill State College - August 2019