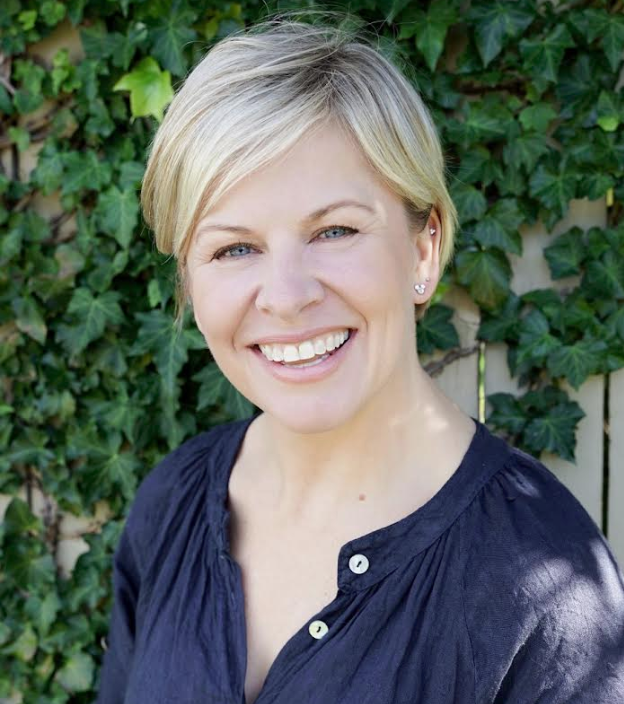 Kristin Darell is the author of the popular junior fiction series Football Fever, an exciting career shift after more than twenty years working as a news and sports journalist.
During her time with the Seven Network and Australian News Channel, she covered court and crime stories and natural disasters, but also shared uplifting stories such as the birth of rare white tiger cubs and gold medal victories at the Winter Olympics.
Kristin now spends all her time in the world of children's books. She is either writing stories, talking to kids and teachers, or helping find better ways to help young people love stories through her work with the Australian Children's Laureate Foundation.
Kristin believes we all have stories to tell – whether real or made up – and wants to encourage everyone to be brave enough to let their imagination soar.
Talks
For Kids
Kristin is available for author talks and workshops for children in grades 1–6 (fiction & non-fiction) and grades 7–9 (non-fiction). She is also available to facilitate and host sessions with fellow authors at Family Fun Days and Festivals for kids of all ages.
For Adults
Kristin is an experienced interviewer and panel chair for Festivals and literary events. She has facilitated both online and in-person interviews. She is also willing to participate in panels talking about her experience transitioning from journalism to writing for children and about the importance of children's literature from her work as Program Manager for the Australian Children's Laureate Foundation.
Workshops
All workshops 45 mins – 1 hour unless indicated
1. Writing as a Team
Do you think you have to write alone? Think again! Author and journalist Kristin Darell is no stranger to writing with a team. In this workshop she draws on her time as a producer in TV newsrooms and her crazy experience writing and publishing a novel with eight other authors. Learn tips and tricks for exciting and efficient brainstorming, building a seamless plot and how much fun it can be to create stories with friends.
2. Writing with Parameters
Do you ever feel stuck for story ideas? Do you wonder where authors find inspiration? Kristin Darell helps inspire young writers by showing them how the most random settings and characters can kick-start fascinating stories – the more random the better! Kristin works with the group to build the framework for a story and support students to write the start of a brand new adventure.
3. WABIAD Preparation (1–1.5 hours)
Writing as a Team and Writing with Parameters workshops can be combined with the WABIAD experience in mind to help students preparing to take on this challenge. Author Kristin Darell was part of the national WABIAD-winning team for four years in a row, and is passionate about supporting kids to write and illustrate a whole book in a single day.
Kristin is also available to provide support on a WABIAD writing day.
4. Be A Reporter
Kristin spent more than 20 years working as a broadcast journalist, covering happy, sad, funny and fascinating stories. In this workshop, learn interview techniques and the importance of asking curious questions, how to sort fact from fiction and the essential elements of a writing an engaging information report.
5. Making Non-Fiction Fun!
Non-fiction can get a pretty bad wrap, but Kristin is passionate about encouraging kids to share the stories of our time and our world. Kristin is happy to tailor this workshop to your specific focus area – persuasive writing, report writing, information texts, fact vs opinion, interview techniques … and more.
6.Building Characters
Characters are one of the most important elements of any story and creating characters is one of Kristin's favourite things to do. Kristin shares how she came up with a whole team of kids for her Football Fever series, and then working with your student's interests and experiences, she gives them the tools and the confidence to create their very own characters … and the start of a brand new story!
Recent festivals include:
June 2022: Chair of the Aspiring Writers Panel at the 2022 Kids & YA Festival, WritingNSW
June 2022: ScribeTribe host at the Littlescribe Mini-Writing Festival
July 2021: Littlescribe Mini-Writing Festival – Reporting & Non-Fiction for Lower Primary
March 2021: MC and moderator for Australian Children's Laureate Foundation Summit
July 2020: Littlescribe Mini-Writing Festival – Non-Fiction for Stage 2 "Heroes"
Testimonials
Kristin visited our Year 3 students recently to share latest release of her book in her Football Fever series. Her passion, enthusiasm and energy were contagious among all who were there. Students were encouraged to start creating as she shared her passion for reading and why she started writing. Connections were easily made between the Year 3s and her books Football Fever, a popular sport among the students at school and they could all relate to being a team player. Kristin catered to the age group appropriately and had the students wanting to know more, in fact it was a struggle to get them out the door for lunch. Engaging and fun activities encouraged student participation. I highly recommend Kristin visiting your school.

Barker College - March 2023

The students thoroughly enjoyed Kristin's author visit to our school today. She was very entertaining and had the girls in stitches! Kristin also spoke to the girls about the writing process, how to get story ideas and how to build and flesh out characters. All the students loved Kristin's talk!

Ravenswood School for Girls - March 2023

Kristin was fantastic as she launched Book 3 in her series with our Year 3 girls. Her interactive presentation had them all begging to be involved and they absolutely loved hearing about her pets, family, who she's met and worked with and where else she gets her ideas from. The girls were buzzing all day and our PDHPE teachers loved the positive impact her visit has had on their lessons too.

Tara Anglican School for Girls - March 2023

We were delighted to welcome author Kristin Darell to St Martin's Catholic School in early October. Our Stage 2 and 3 students thoroughly enjoyed listening to Kristin share stories about her life, her passion for writing and her latest chapter book series, Football Fever. She wowed us with her smile, her great sense of humour and her enthusiasm for story-telling. A huge thank you to Kristin for inspiring our budding readers and writers. We now have a signed copy of her first book, The Kick Off, in our library which students are fighting over!

St Martin's Catholic Primary School - October 2022

Kristin Darell did two presentations at our school, one for Years 4 and 5 and one for Years 2 and 3. Each audience was enthralled by Kristin's warm, entertaining, and entirely relatable presentation. Kristin talked about her book, 'Football Fever: The Kick-Off', a book about a topic very close to the heart of many of our students. The students were captivated as Kristin not only spoke about her book but the things which inspired her writing and the writing process. Some of Kristin's own life experiences were also shared with the students who loved hearing about her pets and past experiences as a journalist. Kristin allowed plenty of time for students to ask questions and then very generously afterwards to signs copies of books, pieces of paper and diaries the students had brought along making each of these students feel special with some one to one time with her.

St John the Apostle Catholic Primary School - September 2022