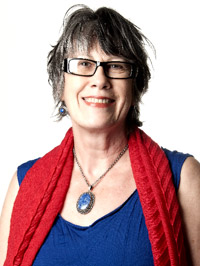 Krista Bell is an award-winning Melbourne based author and an established ABC Radio children's book reviewer. Krista's 27 popular titles for children include her picture book Peeking Ducks with illustrations by Sally Rippen.
Krista is an entertaining and enthusiastic presenter who travels around Australia sharing her passion for books and giving writing workshops and talks to both children and adults.
Krista's book, Jack's Bugle was illustrated by Belinda Elliott and first published in 2014 in hardback by Windy Hollow Books. When Aidan Jackson, known as "Jack", leaves his parents' farm to fight overseas in World War 1, he is excited by the promise of travel, adventure and making new friends. He trains with the AIF in Egypt near the Sphinx and the pyramids and is then transported to Gallipoli on 25 April 1915. Although Jack's bugle is brought home from the war by his best friend, it lies idle for years and years. Will the bugle ever be played again? This book is a celebration of the music, optimism, mateship and the ultimate peace, that were part of the First World War, "the war to end all wars". It is an easy discussion of war with primary students and links to the Australian National Curriculum. It is recommended reading for mid to upper primary re Gallipoli & ANZACs and is a gentle introduction to the subject of Australians at war.
Another of Krista's books, Bessie's War was also illustrated by Belinda Elliott and first published in 2017 in hardback by Windy Hollow Books. During World War One, Bessie is thirteen and living in Australia, half a world away from the front line. While her father, brothers and uncle are all away in Europe fighting the war and contributing to Australia's war effort, Bessie is stuck at home and wondering how she too can help. And then a letter arrives from Bessie's father, describing how many of the Aussie soldiers are suffering from "trench foot" because their feet are always damp and cold in the trenches. Woollen socks are what they need. Bessie's War helps to answer the question 'What were children doing in Australia during the First World War?' There were primary schools where the children were knitting socks and scarves for our soldiers in Europe, dispatching them via the Australian Comforts Fund. This book links to the Australian National Curriculum and is recommended reading for all primary years. It highlights children's empathy and generosity towards our heroic ANZACs and is a perfect companion to Jack's Bugle.
For a full summary of Krista's bestselling books, visit HERE
Testimonials
Krista interacted keenly with all year levels from Prep to Year 6 and the content of her talks was engaging. Would recommend her to others and definitely book her again to present at our College.

St Francis College, Crestmead - August, 2017

Krista Bell was enchanting and she held the children's attention with stories of her family and travels and how she turns her memories into published books. The children were fascinated by the objects she had and again she was able to use each to tell a story. We loved Krista's warmth and enthusiasm and would definitely recommend her for primary school visits.

Our Lady of the Angels Primary School - August, 2017