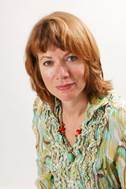 Speaker type
Author
Illustrator / Designer
Kerry Argent is one of Australia's finest and most highly acclaimed illustrators. Her first picture book thirty years ago, One Woolly Wombat was published while she was still at art school and went on to become an international bestseller.
For over a decade, Kerry combined illustrating books with her job as Art Director at Omnibus Books in Adelaide. She is now a full time freelance designer and illustrator and works on texts of her own, like India the Show-Stopper, as well as continuing to collaborate with many of Australia's best known picture book writers.
Originally from Adelaide, Kerry now lives in Brisbane. Her books have a recurrent environmental theme and as well as being an animal lover, Kerry enjoys and draws inspiration from the great outdoors.
"Please the child within yourself" is Kerry's often-quoted advice to budding illustrators.
Testimonials
Kerry was a great speaker and more than met our expectations. Would definitely recommend her to others.

Brisbane School of Distance Education - August, 2017

Kerry interacted well with students. She structured the hour with each group well. She was engaging and shared her skills. Her programme was age appropriate and well received. I would definitely recommend Kerry to other schools.

Kerry Argent - Holy Family Catholic School, August, 2015