Katrina Germein writes joyful books for children. She believes young readers deserve stories that inspire curiosity, imagination, and laughter.
With over twenty published titles, Katrina has seen her work sold around the world. Her popular books include Thunderstorm Dancing, Before You Were Born and the Australian bestseller, My Dad Thinks He's Funny.
Katrina has received multiple Notable Book commendations from the Children's Book council of Australia, won a Speech Pathology Book of the Year Award, and had work Highly Commended in the Prime Minister's Literary Awards. Four of Katrina's stories have been featured on the children's television show, Playschool. Katrina is an experienced presenter with an extensive background in education and early learning. During author visits, Katrina engages students with dramatisations, author anecdotes, lively readings, and audience participation. Her first non-fiction picture book, Wonderful Wasps, will be released in November 2022.
When she's not writing, teaching, or parenting, Katrina enjoys reading all day and drinking hot cups of tea; she also quite likes bushwalking, running (slowly), and going to the beach. Katrina has an adorable dog named Mango and an outstanding guinea pig called Honeydew. Summer is her favourite season.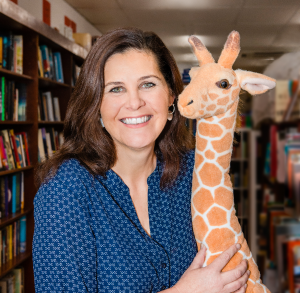 A Room Full of Stories - Junior and Middle Primary
Using props, anecdotes, and audience participation, award-winning author Katrina Germein shares how stories move from flicking ideas to beautiful picture books. Children are encouraged to think like authors and identify stories in their own lives in order to recognise their unique amazing creative potential. Katrina engages young writers through movement and role-play as each session includes story-readings, author insights, wordplay and short book dramatisations. With an extensive background education, Katrina has over twenty years' experience presenting to children.
Writing from the Heart - Middle and Upper Primary
An engaging presentation about how to think like an author and transform shadowy ideas into shining pieces of prose. Using examples from her own writing, Katrina considers various literary techniques and the process authors use to build and refine their work. Students are encouraged to see their own writing as an amazing opportunity for self-expression which honours their unique personal experiences and tastes.
Professional Development for Early Years Teachers (Preschool to Year 2)
Ways to Inspire Young Writers, An Author's Point of View
Katrina has combined her career as an author and educator for over twenty years. Still working in early childhood, she has current knowledge of education theory and practice, combined with an authentic understanding of what writers need to write. In this session, Katrina shares her passion for early literacy. Using anecdotes and examples, she encourages educators to reflect on their pedagogy and consider the best ways to support young learners to develop storytelling skills and a love of reading and writing. Katrina holds a Bachelor of Education, a Graduate Certificate in Early Childhood Education, and a Master of Education (Early Childhood).
Testimonials
Katrina changed her presentations in a few places to match the different year levels. She was lovely and engaged the children exceptionally well. Katrina's props (dolls, puppets etc) were fabulous to accompany her books and storytelling.

Westminster Prep School, SA - August, 2023

Thanks, Katrina, for sharing your talents and passion as an author. You are an inspiration!

Walkerville Primary School - 2021

Katrina was fantastically prepared and extremely engaging. Tracy Glover, Library Branch Coordinator,

City of Holdfast Library - 2021

I have had the privilege of inviting Katrina to present at every school I have worked at over the past 15 years. Katrina is an exceptional, entertaining and informative speaker. She has the unique ability to engage and entertain very young children. She is one of the very few authors that I will book to work with junior primary classes as I know that the students will be captivated, connect with the text and learn about the work of an author. She adapts each session to the age group of the children and to meet the needs outlined by teachers e.g. if we request a focus on a particular book or more about the process of writing a book she will adjust the session accordingly. Her presentations and books are excellent for junior primary and lower primary classes. I highly recommend Katrina as a guest author. Hajnalka Molloy, Learning Resources Manager,

Concordia College - 2021

Wow, Katrina! These sessions were just amazing. The feedback I've received from staff and students alike is just so positive. We're so grateful to have had this opportunity, and it will stay with us all for a long time to come.

North Kellyville Public School - 2021