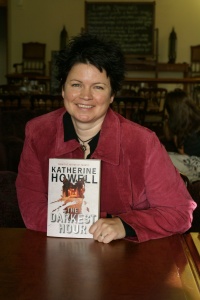 Katherine Howell worked as a paramedic for fifteen years while completing her Bachelor and Masters degrees in creative writing. Her first novel, Frantic, was published in 2007 by Pan Macmillan and set a paramedic alongside Sydney police detective Ella Marconi in 'an adrenaline rush of a thriller' (Sydney Morning Herald). It won the 2008 Davitt award for best crime fiction. Her second book, The Darkest Hour, continued the pattern with Ella and another paramedic in 'a finely paced and engrossing novel' (Guardian UK). The third in the series, Cold Justice, made the Australian bestseller list, saw Katherine travelling on a P&O cruise as guest author, and was described by NYT bestselling author Tess Gerritsen as 'one of my favourite books of the year'. It also won the 2011 Davitt award for best crime fiction, making Katherine the only author to have won twice. Her fourth book, Violent Exposure, was described by Bookseller & Publisher as 'arguably her best yet - four stars', while the fifth, Silent Fear, was chosen as a 'Guaranteed Book You Can't Put Down' by the national Get Reading! programme.
Katherine's books are published in multiple countries and languages and have been likened to the work of Karin Slaughter and Patricia Cornwell. Katherine is studying female doctor investigators in crime fiction for her PhD at the University of Queensland, and teaches writing and editing. She lives in Queensland with her partner, who owns a bookshop.
Katherine is an experienced speaker. While a paramedic she taught first aid and CPR, and as an author she is a frequent speaker at libraries, bookclubs, community groups and writers festivals, including senior school student groups at Somerset. One aspect of her talks is her journey from paramedic to author, including the difficulties involved in making that change and in learning to use her often traumatic experiences as the stuff of good fiction. Another is the importance of persistence as a key quality for anyone who wants to be a successful writer.
Katherine is published by Pan Macmillan.
Testimonials
Zillmere Library had a good turnout for the Katherine Howell event. Katherine spoke really well and the audience really enjoyed the presentation. They had lots of questions for Katherine which she willingly answered, and she was happy to stay a little while after the talk to mingle with anyone who wanted to chat with her.
Overall it was a great event, and we would definitely recommend Katherine Howell for future author talks.

Katherine Howell - Zillmere Library, June, 2013

Katherine was an entertaining speaker and our students enjoyed her presentation and workshop. I would recommend her and Speakers Ink, as both were professional, friendly, and excellent for our school.

Katherine Howell - Proserpine State High School, November, 2013.

Katherine was great - was very interesting and well-spoken and answered plenty of questions. I would definitely book her again - would probably try and get Katherine to talk at one of our other libraries - and would have no hesitation in recommending her to other organisations.

Katherine Howell - Casino Library, NSW, October, 2013.

Zillmere Library had a good turnout for the Katherine Howell event. Katherine spoke really well and the audience really enjoyed the presentation. They had lots of questions for Katherine which she willingly answered, and she was happy to stay a little while after the talk to mingle with anyone who wanted to chat with her.
Overall it was a great event, and we would definitely recommend Katherine Howell for future author talks.

Katherine Howell - Zillmere Library, June, 2013

My students were particularly impressed with this aspect of her discussion and were able to see how it could be applied to a range of writing tasks.

Katherine Howell has visited Hornsby Girls High School twice to speak about Crime Writing. On both occasions, she has made a very important contribution to the students' preparation for their HSC exams. She makes a strong impression on her listeners and presents very pertinent examples of her own work to underline the points she is making about writing within that genre. However, her approach to editing a piece of writing is also a very practical demonstration of the improvement that a few thoughtful and relatively simple changes can make to a written text.

Katherine Howell - September, 2009