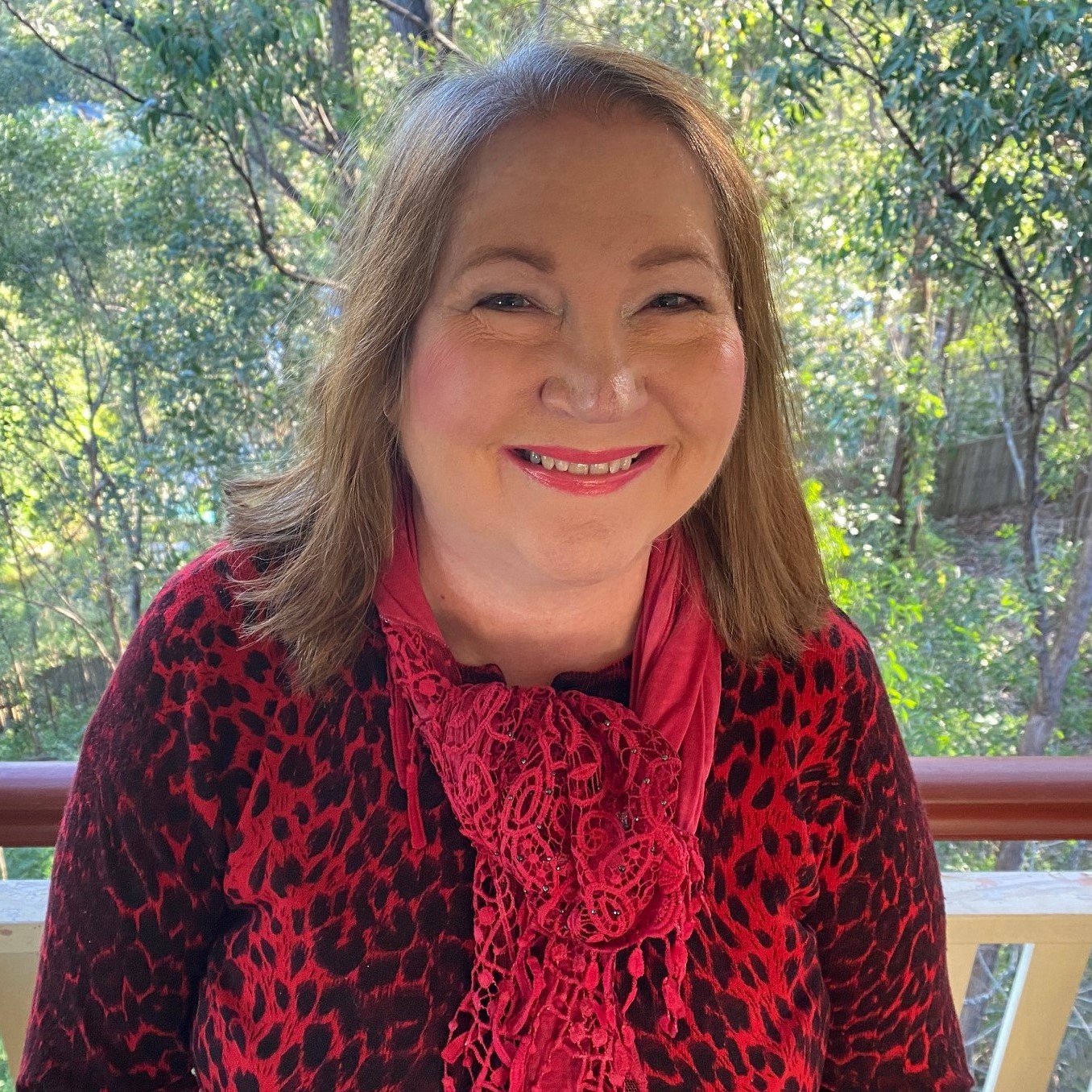 Speaker type
Author
Storyteller / Performer
Educational consultant
Motivational
Virtual visits

Karen Tyrrell is a Brisbane award-winning child empowerment author and mental health advocate. Karen created Let's Play, an interactive picture book through Play Matters Australia, the heart and science of play.
Andy & Ghost Boy empowers kids to be brave, face their fears and LIVE strong. Karen presents engaging interactive costumed reader's theatre, empowering talks and writing workshops with author husband, Steve Tyrrell.
Children's Rights Queensland appointed Karen Ambassador. Her role is to educate and empower children on their rights to play, be happy, healthy and safe. As a Children's Rights QLD Ambassador, she presents interactive storytelling sessions using picture book 'Right to be Me' with PowerPoint, costumes, props sharing FREE resources to schools.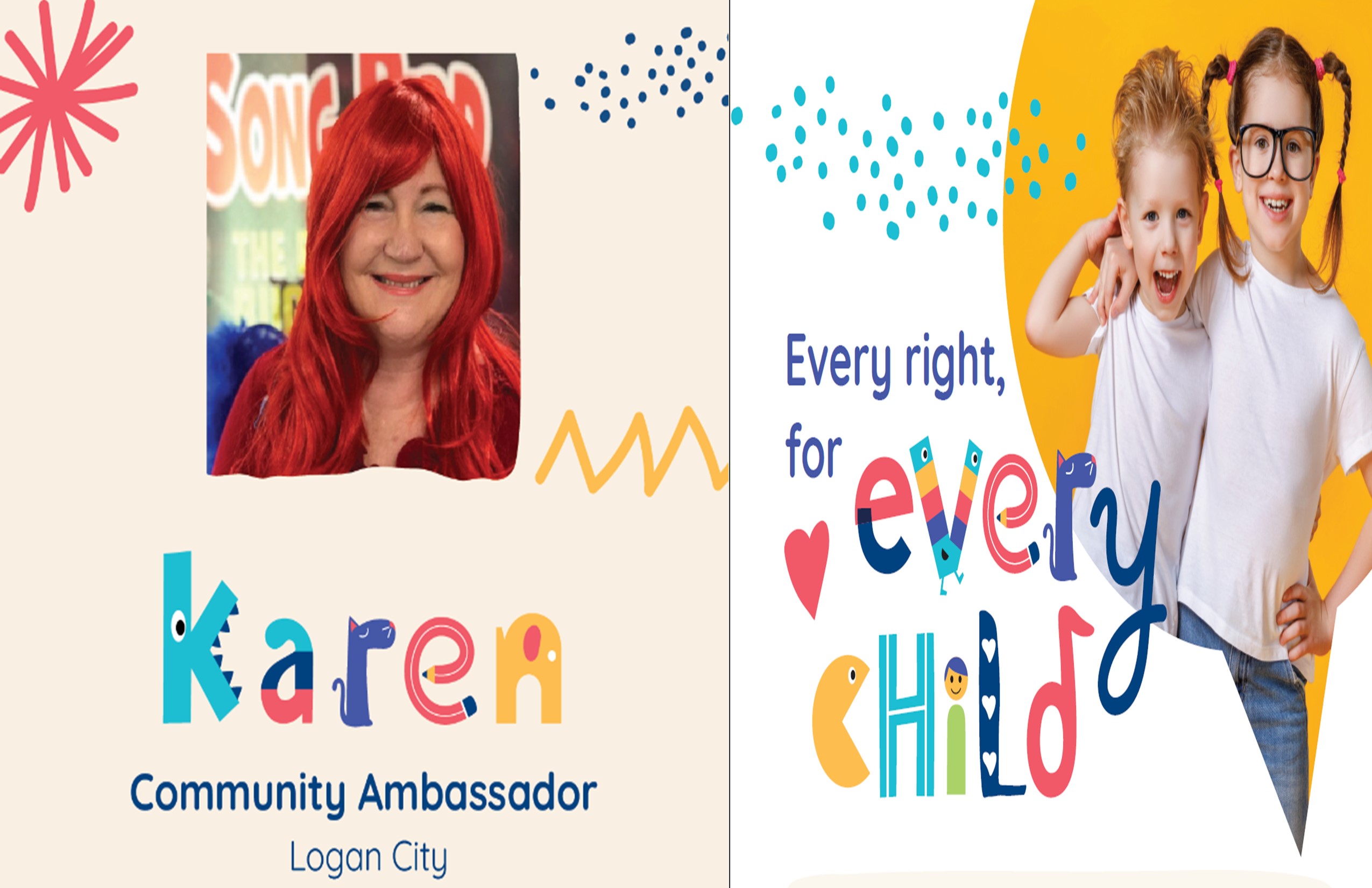 Karen created a local history picture book, Follow the Sugar Trail, about the history of the Gold Coast and Beenleigh, focussing on past and present events and geography. The NEW Queensland curriculum focusses on local history, past, present and geography.
During Book Week, Karen and Steve toured #12 Outback Queensland Schools as Author in Residence, presenting bully prevention and resilience talks, reader's theatre and writing workshops. Their tour highlight was presenting to fifty remote students from the Charleville Distance Education studio via Blackboard App and OneNote App.
Karen won an Arts Queensland grant to research Song Bird Drought Rescue in Winton and Longreach. It addresses environment care, Banjo Paterson, dinosaurs, Royal Flying Doctors and water management. Karen presents an interactive power-point talk on how she collaborated with writers, illustrators, and schools.
In 2019, Speech Pathology Australia shortlisted Song Bird Rainforest Rescue for Book of the Year. Rainforest Rescue is Highly Recommended by Reading Time - Children's Book Council of Australia. Karen has also won an Arts Queensland grant for her picture book Ready Set Discover Logan.
Her acclaimed books: Song Bird Superhero, Song Bird Battle of Bug World, Song Bird Rainforest Rescue, Song Bird Great Barrier Reef Rescue, STOP the Bully, Bailey Beats the Blah, Harry Helps Grandpa Remember and the Super Space Kids series share messages of bully prevention, resilience and caring for the environment. Karen has won awards, seven literary grants, and a mentorship through the Society of Editors (QLD).
Karen's Song Bird reader's theatre and Bailey Beats the Blah pantomime are amusing and popular. As a survivor of workplace bullying, Karen shares bully prevention, resilience, self-care and coping skills at teacher's conferences, schools and festivals.
Karen provides creative writing workshops for Meanjin Writing Camps, Brisbane Libraries, Queensland Writers Centre and writing festivals. She presents empowerment presentations to all ages, from kindy to adults, tailor-making her talks to specific needs. Karen has judged writing competitions, co-ordinated a writer's collective, organised a writer's festival and presented Book Marketing Masterclasses. She speaks on radio and TV about bullying prevention, resilience, and eco issues.
When Sir David Attenborough implored, 'The Great Barrier Reef is in grave danger. It's time to step up.' Karen took his challenge to heart, writing Song Bird Great Barrier Reef Rescue to educate and empower kids to care for the reef, seas and creatures. Karen was thrilled to receive a congratulatory letter from Sir David Attenborough, as below. You can listen to the podcast of her interview on ABC Brisbane Radio.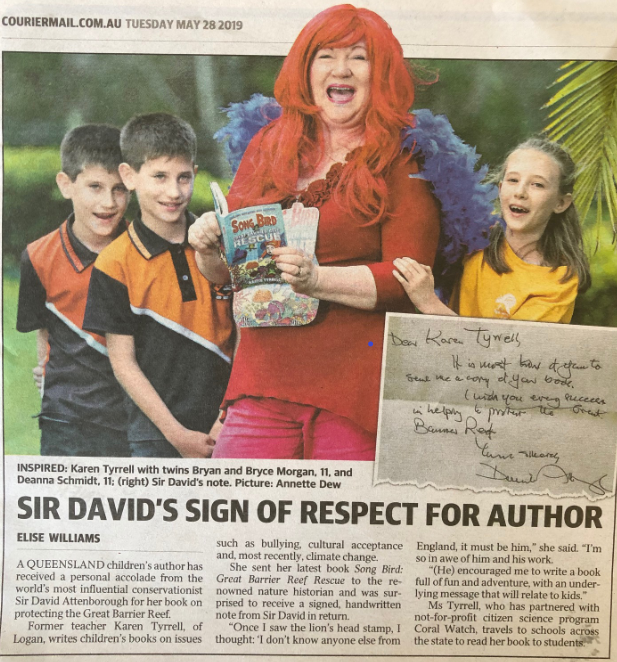 To view more examples from Karen's multifaceted career, follow the links to her Website, Instagram and YouTube Channel
KAREN TYRRELL is a Brisbane award-winning child empowerment author. Karen created fifteen books including Andy & Ghost Boy with bravery, resilience, self-care and eco themes. Travelling throughout Australia, Karen delivers talks, readers theatre and workshops with author hubby Steve Tyrrell to children and adults at schools, libraries, festivals, teacher's conferences, writing camps and writers' centres.
Author Talk
Karen shares her real-life journey that inspired writing #15 books. She reveals her writing process, collaborations, world-building, plot development, editing, solving problems and drawing one's own experiences in writing. This talk can be tailored to your needs. Includes costumes, props, PowerPoint shows, dramatic book readings and writing workshops.
Bullies & Resilience
Karen presents powerful interactive talks, role play and readers theatre, including PowerPoint, costumes, props and writing workshops around her highly-acclaimed book Andy & Ghost Boy. Children develop strategies for bravery, resilience, facing fears, self-care and coping skills to promote optimum wellness and happiness.
Local History Picture Book
Karen shares how she created a historical picture book, Follow the Sugar Trail, based on the history and geography of her local area, comparing past events to present day. Karen reveals the process of researching, reading, taking photos, creating meaningful characters, and crafting an enthralling story from starting point to a satisfying ending.
Song Bird Series
Karen and co-writer Steve take you on an interactive journey through the Song Bird ECO series. Karen as Song Bird & Steve as Destructo share how and why they wrote each eco book: Song Bird Superhero, Song Bird Battle of Bug World, Song Bird Rainforest Rescue, Song Bird Great Barrier Reef Rescue and Song Bird Drought Rescue. With PowerPoint, readers theatre and props, Karen and Steve will show students how to keep oceans clean, care for rainforests, reduce pollution and save natural habitats. Learn about your favourite Aussie animals, including koalas, turtles, dinosaurs, bees, rosellas, and wallaroos. Hear about the inspiration behind Karen's stories and read along with her.
Superhero Story Writing Workshop
Create an entertaining SUPER hero story, boosting creativity and writing skills. Children write a superhero story with SUPER characters, SUPER villains and SUPER powers. Includes planning sheet, PowerPoint, costumes, props, modelling and sharing.
Adventure Story Writing Workshop
Write an exciting adventure story with tips on developing a plot, creating tension, drama and cliff-hangers in an adventure setting. We use our imaginations and inspiration to challenge characters to solve their problems. Includes interactive PowerPoint, readers theatre, planning sheet, props and costumes.
Build a Hero Character
Create an unforgettable hero character with hero traits, goals and fears. Participants strengthen a character, show action, create dialogue and display thoughts.
Create a Picture Book
Plan, write and illustrate a picture book. Karen provides an insight into how picture books are constructed. Students are led through exercises to create their individual picture book, design and illustrate the front cover, create a blurb, and write and illustrate a simple story.
Bailey Beats the Blah Pantomime – Friendship skills P-2
Karen dressed as Bailey and Steve as fuzzy the dog, bringing to life the picture book Bailey Beats the Blah as an interactive pantomime with fun costumes, props, songs, role play, Q&A and kid's activities. Children learn how to make and keep friends.
Harry Helps Grandpa Pantomime – Memory skills & Grandparents P-2
Karen dressed as Harry and Steve as Grandpa, bringing to life the picture book Harry Helps Grandpa Remember as an interactive pantomime with fun costumes, props, music, role play, Q&A and activities. Children learn memory-boosting skills, the value of communication and family relationships.

*Schools receive EXTRA value: #2 interactive performers for the PRICE of one!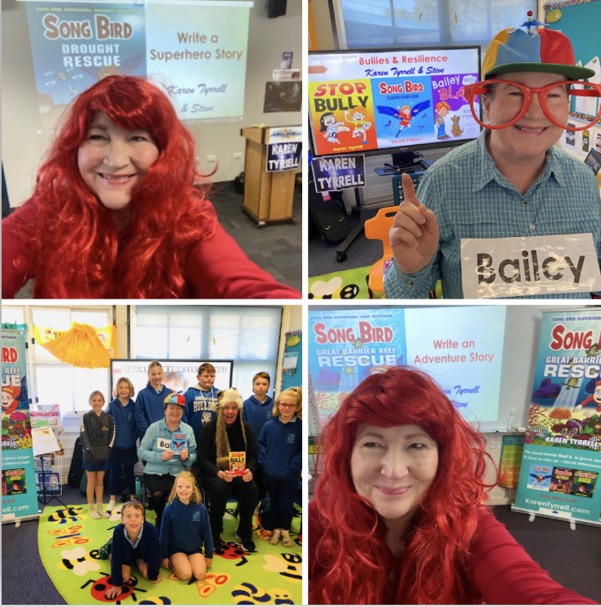 Testimonials
Our Year 2 Students thoroughly enjoyed watching Karen's stories come to life, through their very engaging storytelling skills. The presentation was perfect for the year level.

Islamic College of Brisbane - September 2020

Karen linked her presentation with current school initiatives. She was enthusiastic about working with our students. She had costumes, props and a few giveaways.

Guardian Angels School - 2017

Karen is a dynamic visiting author. Children were inspired and engaged throughout her sessions which focused on developing their own creative writing.

Meanjin Writing Camps, USQ - 2018

The children were excited to be part of the interactive puppet show, whilst our secondary students made real life connections to the story. A fantastic, age appropriate experience

Logan City Special School - August 2018

Our students were engaged in the entertaining pantomime and drawn in by the author's character portrayals in the book readings

Norfolk Village State School - August 2018