Speaker type
Author
Storyteller / Performer
Non-fiction
Educational consultant
Julie Miller NEM BAEngLit.GDEd.GDPsych. is a 2023 CBCA Queensland Branch Creative, an active member of Write Links and SCBWI, and an executive on the board of Brisbane Book Authors. Her Remember series is traditionally published with Hawkeye Publishing and she was published in an anthology produced by the Australian Centre for Leadership for Women.
She has received public endorsements from the Australian War Memorial's education department and prominent individuals, having delivered keynote addresses at several significant events around Australia, including Remembrance Day and Anzac Day services. Queensland Police Commissioner Katarina Carroll is the ambassador for her highly acclaimed new book, Remember, Triple Zero Heroes, and she even received a letter from His Majesty King Charles III about Remember, Lest We Forget.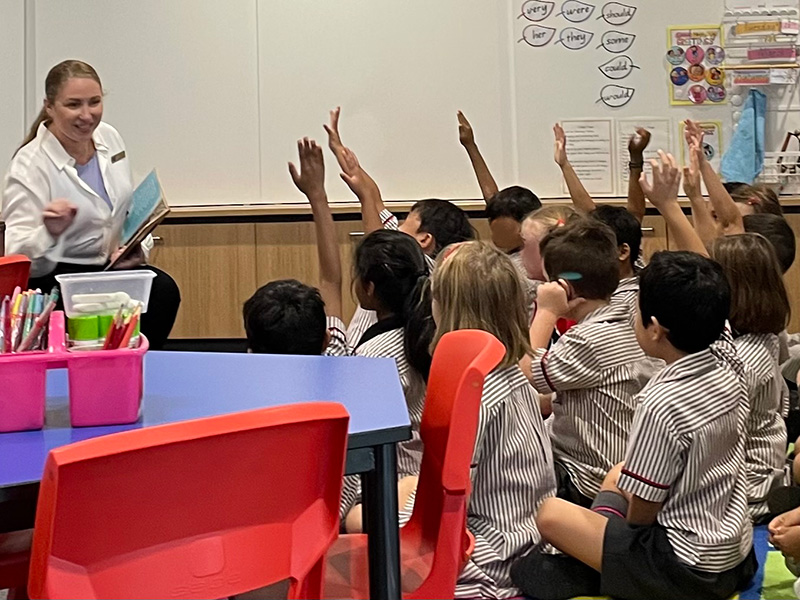 A former teacher and performer with a degree in neuroscience and developmental psychology, Julie is an experienced public speaker who can do anything from singing and dancing on stage, to running writing therapy sessions or teaching first aid. Her performance credits include Cole Porter's Anything Goes, A Knight's Tale, and an AFL Grand Final performance with Yothu Yindi and Midnight Oil. She also knows some terrible dad jokes.
Julie lives in Brisbane with her adorable family and two robot vacuums: Mrs Potts and Chip. She is a lifelong philanthropist and has received a Queensland Meritorious Service Citation (2011), Commissioner's Commendation (2014), Queensland Meritorious Medal (2019), and a National Emergency Medal for significant service (2022).
Growing up, her favourite books were Enid Blyton's Magic Faraway Tree series, The Chronicles of Narnia by C.S. Lewis, and E.B. White's Charlotte's Web, and her most loved film was The Wizard of Oz. She didn't know it at the time, but she was always destined to be an author of magical realism, bringing fables, folk tales, & myths into contemporary social relevance.
Find all her online content here: https://linktr.ee/jemillerauthor
Julie was a finalist for the Eric Hoffer Book Awards in 2020 and is shortlisted this year for Speech Pathology Australia's Book of the Year Award.
Julie's Books:
All books in the Remember series are beautifully bound padded hardcovers with satin recycled pages. The characters and events are based on real life experiences and Julie describes them as, 'My words, their stories.'
The Remember series can be purchased direct from the publisher or found at all good bookstores and libraries.
Remember Lest We Forget
A commemorative illustrated children's book and the first book in the Remember series, Remember Lest We Forget is told from the perspective of a child at an Anzac Day march, who steps into the shoes of people they see, to find out why they are there.
'I wish I could say thank you for the sacrifice they gave. Imagine if superheroes were ever half as brave.'
Praise
Napoleon said, "if you want to learn a nation's interests, go to the graves of its soldiers". This may be the best approach for adults to learn about Australia's proud military history, however, it may be appropriate and necessary to teach our young people in a different way. This is where J. E. Miller's book really excels. Written with empathy, sensitivity, and respect for our veterans' sacrifices, this book conveys the message of remembrance in a way that will resonate with Australians of all ages.'
- A. J. (Jim) Molan AO DSC
Major General
'Within these pages is the key to stimulating young minds to see the world through the eyes of others, sacrifices made in our name by men and women in uniform, and the families who love and support them. In this ennobled memory, we are prompted to ask if we continue to be people worthy of such sacrifices.'
- The Hon Dr. Brendan Nelson AO
Director of the Australian War Memorial
'What a gift; to walk a mile in our veterans' shoes – the gift of empathy. Simple in language yet ornate in visual imagery, this is the perfect book to educate our children why we stand as a nation with pride and gratitude.'
- Kevin Humphreys
Mates 4 Mates Community Ambassador
'An inspiring guide to a more compassionate and peaceful world. This book is a must for every Australian school and home. Lest We Forget.'
- Wing Commander Sharon Brown (Ret'd)
Returned Service Nurse, Member of the Council of the Australian War Memorial
Remember Triple Zero Heroes
J. E. Miller's Remember Triple Zero Heroes follows a young child stepping into different shoes attending an Anzac Parade to experience life through another's eyes, for just a moment. The child becomes a fireman, a police officer with a sniffer dog, a paramedic, a mounted police officer, an SES flood boat operator, and more.
More than a book about just who these people are and what they do, Remember Triple Zero Heroes will fill you with the Australian spirit.
Praise
'A wonderful narration of walking in the shoes of humble and dedicated people, Remember Triple Zero Heroes generously acknowledges the sacrifices, skills and commitment of emergency services personnel.'
Mike Wassing, Deputy Commissioner, Queensland Fire and Emergency Services.
'As a former volunteer rural firefighter, I was thrilled to read this beautiful book. Our emergency services personnel are integral to the fabric of Australia, and this commemorative book should be in every school and library in Australia. Exquisitely written, beautifully illustrated. The author's approach of running a community illustration competition, and then writing a story to match the winners' drawings, was novel and exciting, and she nailed it.'
Cate Sawyer, Author.
Julie shines in her ability to customise workshops and presentations to suit her clients' needs. She has an excellent knowledge of the Australian Curriculum and structuring activities to meet upcoming assessment requirements.
Julie is passionate about professional development, strategic planning, and practical neuroscience. She holds current teacher registration with QCT and a TAE Cert IV.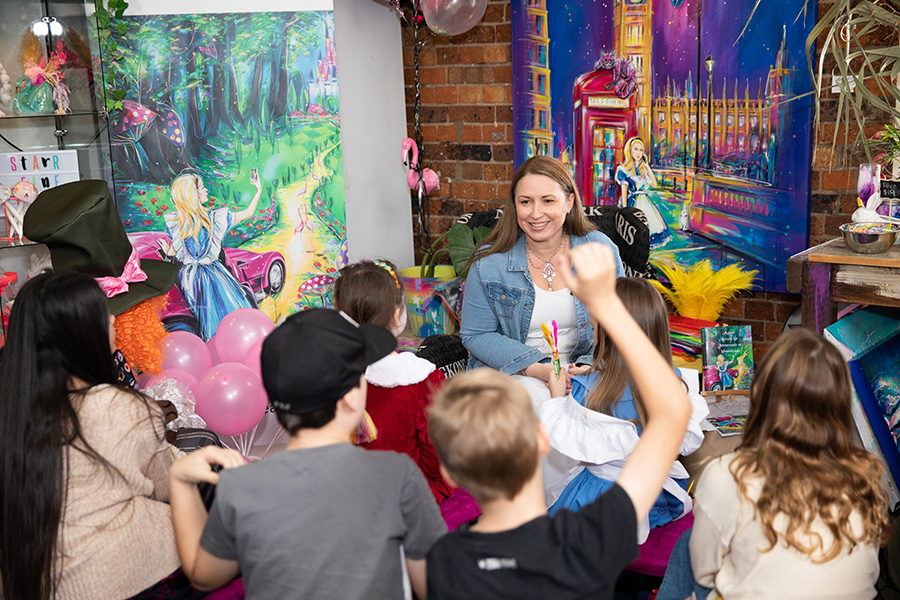 Testimonials
That was a wonderful presentation. The stage looked amazing and I was excited as soon as I walked in. The students really benefitted from your session. Thank you for making it engaging and fun for all the students across P-6. Even our tough students were engaged.

QDET Head of Department, 2023

Our students got so much out of your author in residence program. Thank you for sharing your time and expertise with us

BCE Teacher Librarian, 2023

What a hidden gem Julie is! I was blown away by her outstanding presentation, as was the audience. Inspiring, honest, thoughtful. Really first class.

Rotary District Governor, 2023

'We always receive positive reviews from participants after Julie's training sessions. She is consistently organised, well-presented, professional, and engaging.

QFES Executive, 2022

THANK YOU SO MUCH for coming to our school to share your books. The kids and staff are still so excited about your visit!

QDET Teacher, 2022