Aunty Rhonda Collard-Spratt and Jacki Ferro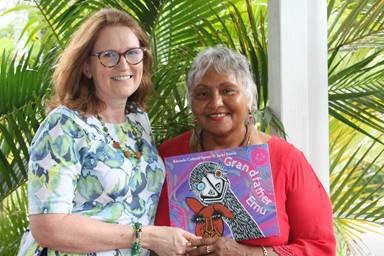 Speaker type
Author
Storyteller / Performer
Virtual visits

Yamatji-Noongar Elder Aunty Rhonda Collard-Spratt and writer Jacki Ferro aim to bring children hope and joy through their Spirit of the Dreaming series, based on ancient Aboriginal teachings.
A lively storyteller and talented artist and singer-songwriter, Aunty Rhonda is a respected representative of the Stolen Generations.
Community development worker and writer Jacki Ferro believes in keeping the Dreaming alive and in developing pride in our First Nations people — their culture, languages, and lore — and their special kinship with our sacred land and its animals. Aunty Rhonda and Jacki work together in the true spirit of Reconciliation.
Bio – Aunty Rhonda Collard-Spratt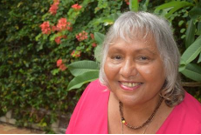 Aunty Rhonda Collard-Spratt is a strong Yamatji and Noongar woman from Carnarvon, Western Australia, who now lives in Ipswich. A visual artist, storyteller, poet, singer-songwriter, dancer and art teacher, Aunty Rhonda speaks out against injustices against her people and Mother Earth. Aunty Rhonda conducts cultural and art workshops at high schools and has worked in prisons with young women around suicide prevention, helping them reconnect with their Aboriginality. As a representative of the Stolen Generations, Rhonda officiates at National Sorry Day events in Brisbane and Ipswich.
Bio – Jacki Ferro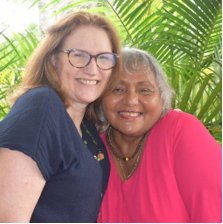 Brisbane writer and editor Jacki Ferro (or Dragonfly Girl) specialises in memoir through her business Raw Memoirs. Jacki co-wrote Aunty Rhonda's life story, Alice's Daughter: Lost Mission Child (Aboriginal Studies Press, 2017). During the pandemic in 2020, they teamed up again to modernise ancient Dreamtime stories for children today, and feature Aunty Rhonda's vibrant artwork. The Spirit of the Dreaming series aims to strengthen our connection with this sacred land and its animals, and to keep the lore and languages of our First Nations people alive. A strong advocate for Reconciliation, community empowerment and social justice, Jacki is qualified in public relations, community development, and writing, editing and publishing.
NEW RELEASE!
Old Nana Quokka - Booralong Press, May 2023
Through Old Nana Quokka, Book 3 in the Spirit of the Dreaming series for 4-12 year olds, Yamatji-Noongar Elder Aunty Rhonda Collard-Spratt shares the healing wisdom of her ancestors, and the importance of caring for Country. On the spiritual place of Wadjemup, Rottnest Island, tourists are injuring the animals and making them sick. It's time to make a stand. In this Aboriginal Dreaming story, farting quokkas, dive-bombing seabirds and protesting snakes teach us how to look after our sacred land and its animals.
Themes and teachings of Old Nana Quokka: All life is sacred. Care for the land and each other, and think of the survival of other creatures. Leave animals be. Don't touch or feed Australian bush animals. Slow down on your bike or in the car, and care for hurt animals. Take your rubbish with you. Learn about the six Noongar seasons. If you look after Country, Country will look after you.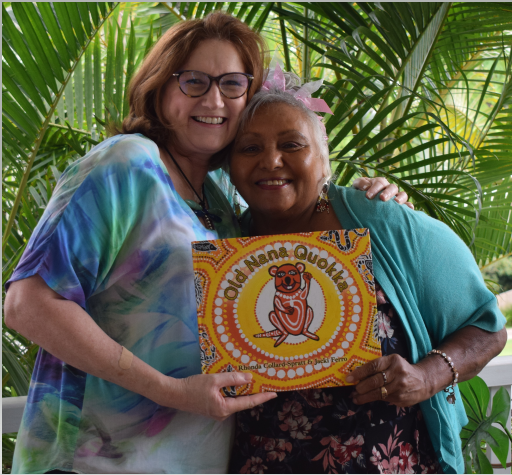 For fun videos, audiobooks, FREE teacher notes and author-signed books in the Spirit of the Dreaming series, visit www.spiritofthedreaming.com.
Follow Raw Memoirs on Facebook or @spiritofthedreaming on Instagram.
Presentations
Spirit of the Dreaming Presentations
For children aged 5-12 years
Through lively storytelling, puppetry, song and dance, Aunty Rhonda Collard-Spratt and Jacki Ferro teach children about our special Australian bush animals (their characteristics, habits, environment and life cycles), wise teachings based on ancient Aboriginal Dreamtime stories, and words from the Noongar language (Grandfather Emu), and two Yamatji languages (Bobtail's Friend), namely Wajarri (desert people's language) and Nhanda (saltwater people's language) of Western Australia. They sing songs that summarise their story themes of kindness and caring for each other, and get children up to dance like emus, goannas and dolphins, and hop like kangaroos! Each presentation is unique and tailored for the needs of the audience. Spirit of the Dreaming presentations support the goals of Reconciliation Action Plans (RAPs) in schools.
Grandfather Emu is presented with a puppet show by Jacki as Aunty Rhonda reads the book.
Bobtail's Friend is presented with a 900mm x900mm feltboard on which Jacki presents the scenery and Australian bush animals as Aunty Rhonda reads the story.
Old Nana Quokka is presented with a puppet show by Jacki as Aunty Rhonda reads the book.
All stories are also shown simultaneously on a big screen through a PowerPoint of the book, featuring Aunty Rhonda's incredible artwork and the story, so that older students can read along.
The Stolen Generations Presentation
For children aged 15+ and Professional Development
Jacki briefly explains modern Aboriginal history, including who the Stolen Generations are and how Sorry Day came to be, and Australian policies and actions. Jacki then introduces Aunty Rhonda who shares her experiences as a fourth-generation stolen child in her family, and what it was like as a child growing up on Carnarvon Native Mission before being sent to Perth where she lived with three different white foster families until she turned 21 years old when she no longer came under the WA Native Act. Her father died in Broome prison and his case was investigated during the national Royal Commission into Black Deaths in Custody. Aunty Rhonda attended the National Apology in Canberra in 2008, and she shares how she has found healing in Queensland through her art, writing, music, and unbreakable bond with the Dreaming. The talk includes reading poetry by Aunty Rhonda and singing songs that are anthems for the Stolen Generations.
1 hour presentation - maximum 2 sessions per day.
On the day, if a staff member or student/s would like to say an Acknowledgement of Country (or 'Welcome to Country' if they are the mob of your land) prior to the talk, that would be wonderful.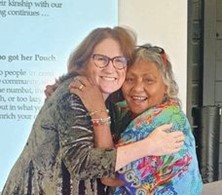 Testimonials
Very authentic and honest approach to Aunty Rhonda's story and an engaging performance with elements of storytelling, puppetry and music.

Petrie Terrace State School - June 2023

Jacki and Aunty Rhonda had our Prep and Grade 1s engaged from the get go! They loved listening to stories, learning First Nation language, singing songs and dancing.

Burpengary Meadows State School - September 2022

The authors were engaging and interesting and very well rehearsed.

Qld Academy for Science, Mathematics and Technology - August 2022

Kids have been telling me all about the performance and the story. They loved the puppets, the sound effects and enjoyed seeing it projected on the screen so they could watch along.

Aunty Rhonda & Jacki Ferro - July 2022