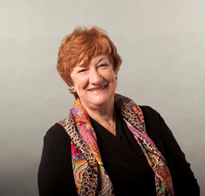 Speaker type
Author
Educational consultant
Interstate
Virtual visits

Hazel Edwards was born in Melbourne, qualified as a primary teacher and graduated from Monash University after studying while teaching fulltime.
Her first YA novel was General Store (1972). Her first child was born in the same year. Best known is her picture book series There's a Hippopotamus on our Roof Eating Cake (1980) illustrated by Deborah Niland. This toured nationally as the musical 'Hippo! Hippo!' in 2016 and will be returning in 2018.
Recipient of an 2001 Antarctic Fellowship, she researched on an expedition to Australia's Casey Base in Antarctica and has published Antarctic themed stories in multi-media. Her works are published in the UK and USA and Asia and she was the first Nanjing International Cultural Exchange author ambassador with dual language projects.
She has written 200 books for adults and children including the recently controversial f2m: the boy within and Hijabi Girl. Co-written with Ryan Kennedy, YA novel f2m the boy within about transitioning from female to male is internationally available and listed with the 2011 White Ravens.
Other adult titles include Difficult Personalities and Writing a Non Boring Family History. Her works are published in Chinese, Korean, Finnish, Japanese, Russian, Braille and Auslan signing.
Hazel is a national Reading Ambassador for numerous literacy groups including YABBA and the Premiers' Reading Challenge. Honors include ALMA nomination 2012,2011 and 2010 and the ASA medal (Australian Society of Authors) 2009.
Congratulations to Hazel for being awarded an OAM for service to Literature in the Queen's Birthday 2013 Honours List.
One of Australia's foremost writers for young people, Hazel has recently stepped down as a director on the board of the Australian Society of Authors.
Not Just a Piece of Cake; Being an Author her unconventional memoir was released in 2015.
E-book literacy mysteries series and performance scripts are available from her website.
NEW! - Hazel has created Free, Downloadable reading and writing activities for students in Lockdown.
New, fun activities of varied lengths and types are added regularly - including Making a family story from photos (which take a while to sort).
Access at: Aspiring Writers