Speaker type
Author
Storyteller / Performer
Non-fiction
Educational consultant
He'll wrangle a snake, blow up a perfectly good can of chips, or even get flung around a theme park, all in the name of discovery. Dr Rob Bell is probably best known for donning his trusty white lab coat and jumping into science (sometimes literally), as the host of the kid's science TV show, Scope. His enthusiasm for science is infectious, his curiosity is never ending, but best of all he can relate it all in way that kids (and adults) understand and enjoy.
His love of science (and particularly the environment) came from growing up on a pineapple farm, where he became passionate about the impact that humans have on the environment and natural resources. It also gave him the chance to tinker with machines and just generally find out how stuff worked.
Dr Rob has a PhD in materials chemistry from the University of Queensland, and it was at university that he also held another prestigious title, that of "President - The Chocolate Appreciation Society". He has worked for the CSIRO, and spent nearly 11 years hosting the (award winning) Scope on Network Ten.
He has been lucky enough to meet Nobel laureates, astronauts and sporting legends. He has seen a space shuttle up close and flown with a jetpack, but his favourite place is a grand ballroom carved completely out of rock salt in an underground mine in Poland.
His passions in life are science and creativity, and that's what he loves to pass on.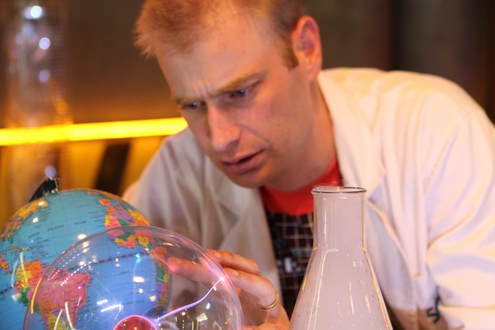 Amazing Materials (Prep - Year 9)
A show all about some of the remarkable materials discovered or developed by science.
The show includes:
States of Matter
Polymers and Plastics
Impossible Fire
Slimes
Colour changing plants
Dry ice
More, more, more.
Fantastical Physics (Prep - Year 9)
It's all about the forces around us and some of the more interesting things they can do.
Air Pressure Implosions
Hammer vs Hand
Slow Juggling
Weird Soundwaves
Defying Gravity (or so it seems)
Rocketry
and even more...
Shows are designed to go for approximately 1 hour, and are tailored to suit the age of the audience.
Sessions can be 45 to 60 minutes - to suit your timetable
Half day - 1 or 2 sessions min 150 students total for the day - there is no maximum size limit.
Full day - 3 or 4 sessions min 250 students total for the day - there is no maximum size limit.
Science Live Highlights from Membrane Media on Vimeo.
Testimonials
We absolutely loved having Rob with us at Wild Things. His presentation was a brilliant blend of stories, science, and mostly - fun. The workshop was really engaging and interactive and the kids had a blast. Having Rob at Wild Things was definitely a highlight of our school holiday program!

Where The Wild Things Are Bookshop - 2019