Speaker type
Author
Illustrator / Designer
Virtual visits

Andy Geppert is an award-winning picture book artist and author whose work captures both the heart and funnybone of children and adults alike.
Through his distinctly charming characters and playful humour Andy's stories speak to the child in all of us.
His witty take on the everyday, painted in delicate and gentle colours will draw you into worlds and stories you won't want to leave.
His work has been awarded the prestigious Crichton Award for new illustrators for his work on Little Big Tree. MEEP was selected as a Notable Book by the Children's Book Council of Australia. His latest picture book Australian Backyard Birdies was recognised by the Australian Book Design Awards and made the cut for the best nonfiction book of 2021 by Bookstagang Australia.
Let's Scribble!
This fun-filled interactive session will inspire children of all ages and abilities to fall in love with creating art.
Designed to inspire budding artists and genuinely help those who don't think they are very good at art, Andy draws on his past experiences to break down individual barriers, offering practical hands-on advice to get all kids scribbling and creating.
This course celebrates the individual differences we can all bring to art.
How to Draw a Really Bad Stick Figure
"I believe everyone can draw, but not everyone can sing!" This fun-filled introduction to art and drawing breaks down the barriers to drawing with practical hands-on advice.
Run as a successful (2 part) ZOOM course for the University of Western Sydney during COVID. This course can be held in person or online and tailored for adults and school classrooms of all ages.
Laugh and Learn
A reading of one of Andy's books. Followed by a craft activity to keep those creative minds buzzing.
In as Few Words as Possible
A snapshot of my journey from an advertising Art-Director to picture book maker.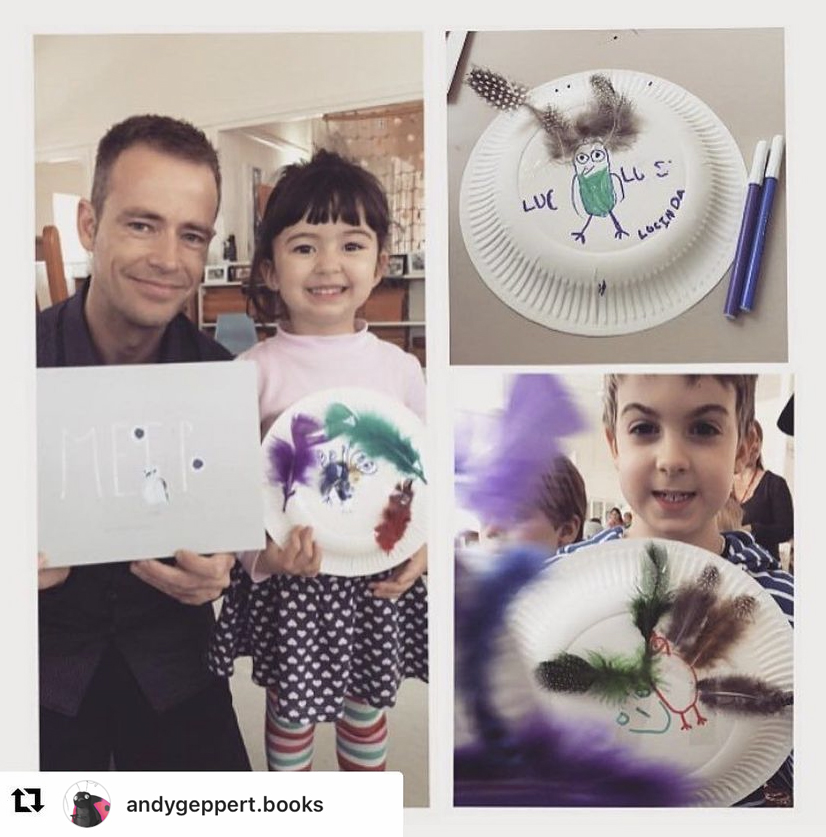 Testimonials
Andy engaged really well with all the groups he led - each student was made to feel they were capable of building on their drawing skills - 'just keep practising' was Andy's cue words; along with 'don't use a rubber'!

St. Joseph's Catholic Primary School - August, 2023

Andy had a well organised, engaging and interactive presentation. He shared some of his published books, talking about the process of getting a book to a published state. Andy also brought in his version of a 'writer's notebook', which tied in very well with our students' own launch of personal writer's notebooks. Andy was engaging and entertaining for our yr 3-6 students, with his sketching and involving them in doing their own 'two animal' sketch.

Our Lady of the Angels' School - August, 2023

I thought Andy was great! He engaged the students and they really related to what he was saying. I've set a homework task this week for the students to create a picture using dot art or hatching etc which was inspired by his talk. Grades 5-6

He was fantastic! The students were very engaged and really enjoyed his presentation. He worked very well with them and the illustrating activities being the focus was so much fun. I had my class come back and wanted to draw for the rest of the day!'
Grades 4-5

Warrigal Road State School - August 2022