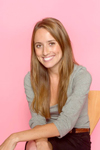 Speaker type
Journalist / Feature writer
Motivational
Writer, editor, blogger including editor of glossy media blog Girls with a Satchel.

A sort of blogging moral guardian, Erica Bartle sorts through the clutter of "pop culture, magazines and pretty things" that define the Zeitgeist to give her readers a point of view shaped more by her Christian values than the persuasions of celebrity, gossip, consumerism and glossy perfectionism (which is not to say she doesn't like nice shoes).
A lover of good writing and proponent of good blogging, she has a Bachelor of Media degree (Macquarie University) and teaches feature writing and fashion journalism at the Queensland University of Technology. Her editorial credits include performing deputy editor duties on teen title Girlfriend as well as writing for Total Girl, Cleo, Cosmopolitan and The Walkley Magazine.
Having experienced a debilitating eating disorder, she is a passionate advocate for media practises that help girls to live fulfilling lives.
Erica firmly believes that the opportunity to speak to girls about some of her beliefs and passions is a real privilege.
"I'm really looking forward to developing my speaking and influencing the lives of girls in a positive way".